Catalog
#:3521
Following tyrosine phosphorylation, the insulin receptor substrate 1 and 2 (IRS-1 and IRS-2) can form a protein scaffolding for the assembly of a host of Src homology 2 (SH2) domain-containing proteins (1). IRS-1 tyrosine phosphorylation can occur through the activity of several cytokine and growth factor receptors such as interleukin (IL)-4, IL-9, interferon-?, in addition to the insulin and insulin-like growth factor 1 receptors (2). The scaffolding provided by IRS-1 and IRS-2 is necessary for insulin signal transduction across the cell membrane. IRS-1 tyrosine phosphorylation, and thus formation of the IRS scaffolding is inhibited by tumor necrosis factor (TNF), and this inhibition can itself be blocked by rapamycin, an inhibitor of the mammalian target of rapamycin (TOR) (3,4). TNF activity could also be blocked by inhibition of the Akt kinase and the PTEN tumor suppressor, suggesting that TNF impairs insulin signaling through IRS-1 by activation of the TOR signaling pathway (3).
Additional Names: IRS-1, Insulin receptor substrate-1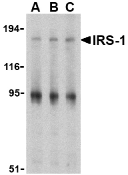 Description
Left:
Western blot analysis of IRS-1 in PC-3 cell lysate with IRS-1 antibody at (A) 1, (B) 2 and (C) 4 µg/ml.


Below: Immunocytochemistry of IRS-1 in P815 cells with IRS-1 antibody at 2 µg/ml.

Other Product Image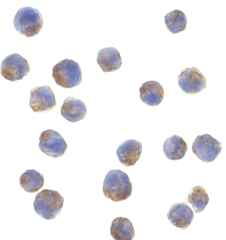 Source:

IRS-1 antibody was raised against a 16 amino acid peptide from near the center of human IRS-1.


Purification:

Affinity chromatography purified via peptide column


Clonality and Clone:

This is a polyclonal antibody.


Host:

IRS-1 antibody was raised in rabbit.
Please use anti-rabbit secondary antibodies.


Immunogen:

Human IRS-1 / Insulin receptor substrate-1 Peptide (Cat. No. 3521P)


Application:

IRS-1antibody can be used for the detection of IRS-1 by Western blot at 1 - 2 µg/ml.


Tested Application(s):

E, WB, ICC


Buffer:

Antibody is supplied in PBS containing 0.02% sodium azide.


Blocking Peptide:

Cat. No. 3521P - IRS-1 Peptide


Long-Term Storage:

IRS-1 antibody can be stored at 4ºC, stable for one year. As with all antibodies care should be taken to avoid repeated freeze thaw cycles. Antibodies should not be exposed to prolonged high temperatures.


Positive Control:




1. Cat.

No. 1216 - PC-3 Cell Lysate


2. Cat.

No. 1286 - P815 Cell Lysate
Species Reactivity: H, M


GI Number:

547738


Accession Number:

P35568


Short Description:

A scaffolding protein important for insulin receptor signaling


References




1.

Giovannone B, Scaldaferri ML, Federici M, et al. Insulin receptor substrate (IRS) transduction system: distinct and overlapping signaling potential. Diabetes Metab. Res. Rev. 2000; 16:434-41.


2.

Waters SB and Pessin JE. Insulin receptor substrate 1 and 2 (IRS1 and IRS2): what a tangled web we weave. Trends in Cell Biol. 1996; 6:1-4.


3.

Ozes ON, Akca H, Mayo LD, et al. A phosphatidylinositol 3-kinase/Akt/mTOR pathway mediates and PTEN antagonizes tumor necrosis factor inhibition of insulin signaling through insulin receptor substrate-1. Proc. Natl. Acad. Sci. USA 2001; 98:4640-5.


4.

Shamji AF, Ngheim P, and Schreiber SL. Integration of growth factor and nutrient signaling: implications for cancer biology. Mol. Cell 2003; 12:271-80.