Catalog
#:4929
Junctional complexes between the plasma membrane (PM) and endoplasmic/sarcoplasmic reticulum (ER/SR) are a common feature of all excitable cell types and mediate cross talk between cell surface and intracellular ion channels. Junctophilins (JPs) are important components of the junctional complexes. JPs are composed of a carboxy-terminal hydrophobic segment spanning the ER/SR membrane and a remaining cytoplasmic domain that shows specific affinity for the PM. Four JPs have been identified as tissue-specific subtypes derived from different genes: JPH1 is expressed in skeletal muscle, JPH2 is detected throughout all muscle cell types, and JPH3 and JPH4 are predominantly expressed in the brain and contribute to the subsurface cistern formation in neurons. JPH2-null mice died of embryonic cardiac arrest and human patients with mutations in the JPH2 gene showed hypertrophic cardiomyopathy, demonstrating the importance of this protein. Multiple isoforms of JPH2 are known to exist.
Additional Names:
JPH2 (CT2), Junctophilin 2, JP2, JP-2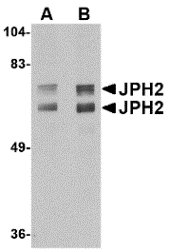 Description
Left:
Western blot analysis of JPH2 in mouse brain tissue lysate with JPH2
antibody
at (A) 1 and (B) 2 µg/ml.
Below:
Immunohistochemistry of JPH2 in mouse skeletal muscle tissue with JPH2
antibody
at 2.5 µg/ml.

Other Product Images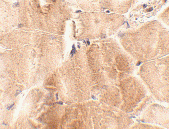 Source:
JPH2 antibody was raised against a 17 amino acid
peptide
near the carboxy terminus of human JPH2.
Purification:
Affinity chromatography purified via
peptide
column
Clonality and Clone:
This is a polyclonal
antibody
.
Host:
JPH2 antibody was raised in rabbit.
Please use anti-rabbit secondary antibodies.
Application:
JPH2
antibody
can be used for detection of JPH2 by Western blot at 1 – 2 µg/ml.
Tested Application(s):
E, WB, IHC
Buffer:
Antibody is supplied in PBS containing 0.02% sodium azide.
Blocking Peptide:
Cat.No. 4929P - JPH2
Peptide
Long-Term Storage:
JPH2 antibody can be stored at 4ºC, stable for one year. As with all antibodies care should be taken to avoid repeated freeze thaw cycles. Antibodies should not be exposed to prolonged high temperatures.
Positive Control:
1.Cat.
No. 1403 - Mouse Brain Tissue Lysate
Species Reactivity:
H, M, R
GI Number:
21704281
Accession Number:
NP_065166
Short Description:
(CT2) T tubule, SR membrane, sarcoplasmic reticulum
References
1.
Takeshima H, Komazaki S, Nishi M, et al. Junctophilins: a novel family of junctional membrane complex proteins. Mol. Cell. 2000; 6:11-22.
2.
Kakizawa S, Kishimoto Y, Hashimoto K, et al. Junctophilin-mediated channel crosstalk essential for cerebellar synaptic plasticity. EMBO J. 2007; 26:1924-33.
3.
Nishi M, Sakagami H, Komazaki S, et al. Coexpression of junctophilin type 3 and type 4 in brain. Brain Res. Mol. Brain Res. 2003; 118:102-10.
4.
Matsushita Y, Furukawa T, Kasanuki H, et al. Mutation of junctophilin type 2 associated with hypertrophic cardiomyopathy. J. Hum. Genet. 2007; 52:543-8.