Catalog#
:4797
The three KINDLINs are a novel family of focal adhesion proteins, localizing to integrin adhesion sites. The KINDLIN proteins are composed of a centrally located FERM domain interrupted by a pleckstrin homology (PH) domain. KINDLIN1 and KINDLIN2 have been shown to play an essential role in integrin-mediated adhesion and spreading. In contrast to the widely expressed KINDLIN1 and KINDLIN2, KINDLIN3 is restricted to hematopoietic cells and is particularly abundant in megakaryocytes and platelets. Several reports describe a transcriptional misregulation of KINDLINs in various types of cancer. A recent study demonstrates that KINDLIN3 is essential for platelet integrin activation and subsequent integrin outside-in signaling, suggesting it may serve as a potential target for the design of therapeutics aimed at specifically disrupting integrin activation in platelets and leukocytes.
Additional Names: KINDLIN3, Fermitin family homolog 3, FERMT, Unc-112-related protein 2, MIG2-like protein, KIND3, MIG2B, URP2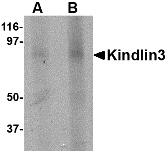 Description
Left:
Western blot analysis of KINDLIN3 in rat spleen lysate with KINDLIN3
antibody
at (A) 1 and (B) 2 µg/ml.
Source:
KINDLIN3
antibody
was raised against a 19 amino acid
peptide
near the carboxy terminus of the human KINDLIN3.
Purification:
Affinity chromatography purified via peptide column
Clonality and Clone:
This is a polyclonal antibody.
Host: KINDLIN3 antibody was raised in rabbit.
Please use anti-rabbit secondary antibodies.
Application:
KINDLIN3
antibody
can be used for detection of KINDLIN3 by Western blot at 1 µg/ml.
Tested Application(s):
E, WB
Buffer:
Antibody is supplied in PBS containing 0.02% sodium azide.
Blocking Peptide:
Cat.No. 4797P - KINDLIN3
Peptide
Long-Term Storage:
KINDLIN3 antibody can be stored at 4ºC, stable for one year. As with all antibodies care should be taken to avoid repeated freeze thaw cycles. Antibodies should not be exposed to prolonged high temperatures.
Positive Control:
1. Cat.
No. 1466 - Rat Spleen Tissue Lysate
Species Reactivity:
H, M, R
GI Number:
41281905
Accession Number:
NP_848537
Short Description:
Fermitin family homolog 3
References
1. Ussar S, Wang HV, Linder S, et al. The Kindlins: subcellular localization and expression during murine development. Exp. Cell Res. 2006; 312:3142-51.
2. Weinstein EJ, Bourner M, Head R, et al. URP1: a member of a novel family of PH and FERM domain-containing membrane-associated proteins is significantly over-expressed in lung and colon carcinomas. Biochim. Biophys. Acta 2003; 1637:207–16.
3. Boyd RS, Adam PJ, Patel S, et al. Proteomic analysis of the cell-surface membrane in chronic lymphocytic leukemia: identification of two novel proteins, BCNP1 and MIG2B. Leukemia 2003; 17:1605–12.
4. Mory A, Feigelson SW, Yarali N, et al. Kindlin-3: a new gene involved in the pathogenesis of LAD-III. Blood 2008; 112:2591.