Catalog#
:3987
The LKB1 serine/threonine protein kinase was initially identified as a tumor suppressor gene mutated in human Peutz-Jeghers syndrome (PJS), a condition resulting in the growth of numerous intestinal polyps classed as hamartomas. LKB1 exists as a heterotrimeric complex with two other proteins, Ste20-related adaptor protein (STRAD) and MO25. Together, this complex can phsophorylate and activate the AMP-activate protein kinase (AMPK). Following AMPK activation by LKB1, AMPK then phosphorylates TSC1 and TSC2, key components of the metabolism-regulating TOR signaling pathway, which antagonizes the activation for the TOR pathway. LKB1 has also been shown to play a fundamental role in controlling the spatial orientation of structures required to maintain an ordered, polarized epithelium. LKB1 often migrates at a higher than expected molecular weight in SDS-PAGE.
Additional Names: LKB1, Serine-threonine protein kinase 11, STK11, NT-REN-19 antigen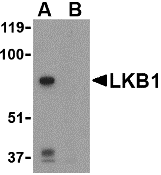 Description
Left:
Western blot analysis of LKB1 in PC-3 cell lysate with LKB1
antibody
at 1 µg/ml in the (A) absence or (B) presence of blocking peptide.
Source:
LKB1
antibody
was raised against a 15 amino acid
peptide
from near the carboxy terminus of human LKB1.
Purification:
Affinity chromatography purified via peptide column
Clonality and Clone:
This is a polyclonal
antibody
.
Host:
LKB1 antibody was raised in rabbit.
Please use anti-rabbit secondary antibodies.
Application:
LKB1 antibody can be used for detection of LKB1 by Western blot at 0.5 – 1 µg/ml.
Tested Application(s):
E, WB
Buffer:
Antibody is supplied in PBS containing 0.02% sodium azide.
Blocking Peptide:
Cat.No. 3987P - LKB1
Peptide
Long-Term Storage:
LKB1 antibody can be stored at 4ºC, stable for one year. As with all antibodies care should be taken to avoid repeated freeze thaw cycles. Antibodies should not be exposed to prolonged high temperatures.
Positive Control:
1. Cat.
No. 1216 - PC-3 Cell Lysate
Species Reactivity:
H, M
GI Number:
17939640
Accession Number:
AAH19334
Short Description:
Serine-threonine protein kinase 11
References
1.
Hemminki A, Markie D, Tomlinson I, et al. A serine/threonine kinase gene defective in Peutz-Jeghers syndrome. Nature 1998; 391:184-7.
2.
Boudeau J, Baas AF, Deak M, et al. MO25alpha/beta interact with STRADalpha/beta enhancing their ability to bind, activate and localize LKB1 in the cytoplasm. EMBO J. 2003; 22:5102-14.
3.
Hawley SA, Boudeau J, Reid JL, et al. Complexes between the LKB1 tumor suppressor, STRADalpha/beta and MO25alpha/beta are upstream kinases in the AMP-activated protein kinase cascade. J. Biol. 2003; 2:28