Slc22A17 Antibody



Catalog# :4651

The Slc22 family of organic anion and cation transporters (OATs, OCTs, OCTNs) are transmembrane proteins expressed predominantly in kidney and liver. Each contain 12 predicted alpha-helical transmembrane domains (TMDs) and one large extracellular loop between TMDs 1 and 2. Transporters of the SLC22 family function in different ways such as uniporters that mediate facilitated diffusion in either direction (OCTs), as anion exchangers (OAT1, OAT3 and URAT1), and as Na(+)/l-carnitine cotransporter (OCTN2). Slc22 family members participate in the absorption and/or excretion of drugs, xenobiotics, and endogenous compounds in intestine, liver, and kidney, and perform homeostatic functions in brain and heart. Mutations in the Slc22 family may cause specific diseases such as primary systemic carnitine deficiency or idiopathic renal hypouricemia and may change drug absorption or excretion. Recent studies show the expression of Slc22A17 as receptor for Lipocalin 2 is relatively high in hematopoietic stem cells.

Additional Names : Slc22A17, Solute carrier family 22 member 17, Brain-type organic cation transporter, BOCT, BOIT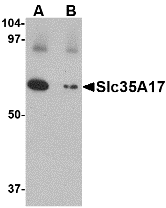 Description
Left: Western blot analysis of Slc22A17 in SK-N-SH lysate with Slc22A17

antibody

at 1 µg/ml in (A) the absence and (B) the presence of blocking

peptide

.

Below: Immunofluorescence of Slc22A17 in rat kidney tissue cells with Slc22A17 antibody at 20 μg/ml.

Other Product Images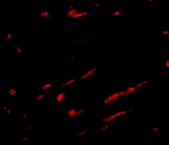 Source :Slc22A17 antibody was raised against a 14

amino acid peptide

near the carboxy terminus of the human Slc22A17.
Purification : Affinity chromatography purified via peptide column
Clonality and Clone : This is a polyclonal antibody.
Host : Slc22A17 antibody was raised in rabbit. Please use anti-rabbit secondary antibodies.
Application : Slc22A17 antibody can be used for detection of Slc22A17 by Western blot at 1 µg/ml.
Tested Application(s) : E, WB
Buffer : Antibody is supplied in PBS containing 0.02% sodium azide.
Blocking Peptide :Cat.No. 4651P - Slc22A17

Peptide


Long-Term Storage : Slc22A17 antibody can be stored at 4ºC, stable for one year. As with all antibodies care should be taken to avoid repeated freeze thaw cycles. Antibodies should not be exposed to prolonged high temperatures.
Positive Control :
1. Cat. No. 1220 - SK-N-SH Cell Lysate
Species Reactivity : H, M, R
GI Number : 27805426
Accession Number : Q8WUG5
Short Description : Solute carrier family 22 member 17
References
1. Koepsell H and Endou H. The SLC22 drug transporter family. Pflugers Arch. 2004; 447:666-76.
2. Rizwan AN and Burckhardt G. Organic anion transporters of the SLC22 family: biopharmaceutical, physiological, and pathological roles. Pharm. Res. 2007; 24:450-70.
3. Miharada K, Hiroyama T, Sudo K, et. al. Lipocalin 2-mediated growth suppression is evident in human erythroid and monocyte/macrophage lineage cells. J. Cell Physiol. 2008; 215:526-37.
4. Devireddy LR, Gazin C, Zhu X, et al. A cell-surface receptor for lipocalin 24p3 selectively mediates apoptosis and iron uptake. Cell 2005; 123:1293-305.