Slc35D1 Antibody
Catalog# :4649
The solute carrier family Slc35 consists of at least 17 proteins that act as nucleotide sugar transporters localized to the Golgi apparatus and endoplasmic reticulum. The role of the ER-resident Slc family member Slc35D1 is to transport both UDP-glucuronic acid and UDP-N-acetylgalactosamine. These molecules can serve as substrates for chondroitin sulfate biosynthesis and mice lacking the Slc35D1 gene developed a lethal form of skeletal dysplasia with severe shortening of limbs and facial structures. Examination of epiphyseal cartilage in these mice revealed a decreased proliferating zone with round chrondrocytes, scarce matrices, and reduced proteoglycan aggregates. Loss of function mutations in human Slc35D1 cause Schneckenbecken dysplasia, a severe skeletal dysplasia. This

antibody

is predicted to not cross-react with the highly homologous Slc35D2.
Additional Names : Slc35D1 (NT), Solute carrier family 35 member D1, UDP-glucuronic acid/UDP-N-acetylgalactosamine transporter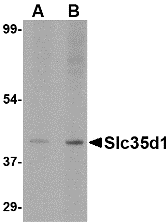 Description
Left: Western blot analysis of Slc35D1 inA-20 lysate with Slc35D1 antibody at (A) 1 and (B) 2 µg/ml.
Source :Slc35D1 antibody was raised against a 14

amino acid peptide

near the amino terminus of the human Slc35D1.
Purification : Affinity chromatography purified via peptide column
Clonality and Clone : This is a polyclonal

antibody

.
Host : Slc35D1 antibody was raised in rabbit. Please use anti-rabbit secondary antibodies.
Application : Slc35D1 antibody can be used for detection of Slc35D1 by Western blot at 1 – 2 µg/ml.
Tested Application(s) : E, WB
Buffer : Antibody is supplied in PBS containing 0.02% sodium azide.
Blocking

Peptide

:Cat.No. 4649P - Slc35D1

Peptide
Long-Term Storage : Slc35D1 antibody can be stored at 4ºC, stable for one year. As with all antibodies care should be taken to avoid repeated freeze thaw cycles. Antibodies should not be exposed to prolonged high temperatures.
Positive Control :
1. Cat. No. 1288 - A20 Cell Lysate
Species Reactivity : H, M, R
GI Number : 14028875
Accession Number : NP_055954
Short Description : (NT) Solute carrier family 35 member D1
References
1. Ishida N and Kawakita M. Molecular physiology and pathology of the nucleotide sugar transporter family (SLC35). Pflugers Arch. 2004; 447:768-75.
2. Muraoka M, Kawakita M, and Ishita N. Molecular characterization of human UDP-glucuronic acid/UDP-N-acetylgalactosamine transporter, a novel nucleotide sugar transporter with dual substrate specificity. FEBS Lett. 2001; 495:87-93.
3. Hiraoka S, Furuichi T, Nishimura G, et al. Nucleotide-sugar transporter Slc35D1 is critical to chondroitin sulfate synthesis in cartilage and skeletal development in mouse and human. Nat. Med. 2007; 13:1363-7.