Catalog#
:4781
Interleukin-34 (IL-34) was identified through a functional screening of a library of secreted proteins after transfection of an embryonic kidney cell line with recombinant cDNAs. Flow cytometry and monocyte viability assays demonstrated increased survival and/or proliferation of monocytes induced by IL-34 and specific binding of IL-34 to CD14+ monocytes. IL-34 is a second ligand to the colony stimulating factor (CSF)-1 receptor in addition to CSF1. Like CSF1, IL-34 stimulates phosphorylation of ERK1 and ERK2 in human monocytes and induces differentiation of bone marrow cells into macrophages. Despite its predicted molecular weight, IL-34 will often run at higher molecular weight in SDS-PAGE.
Additional Names: IL-34 (IN), Interleukin-34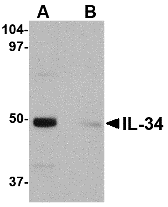 Description
Left:
Western blot analysis of IL-34 in human brain tissue lysate with IL-34
antibody
at 0.25 µg/ml in (A) the absence and (B) the presence of blocking
peptide
.
Source:
IL-34
antibody
was raised against a 13 amino acid
peptide
from near the center of human IL-34.
Purification:
Affinity chromatography purified via
peptide
column
Clonality and Clone:
This is a polyclonal
antibody
.
Host:
IL-34 antibody was raised in rabbit.
Please use anti-rabbit secondary antibodies.
Application:
IL-34
antibody
can be used for the detection of IL-34 by Western blot at 0.25 – 0.5 µg/ml.
Tested Application(s):
E, WB
Buffer:
Antibody is supplied in PBS containing 0.02% sodium azide.
Blocking Peptide:
Cat.No. 4781P - IL-34 Peptide
Long-Term Storage:
IL-34
antibody
can be stored at 4ºC, stable for one year. As with all antibodies care should be taken to avoid repeated freeze thaw cycles. Antibodies should not be exposed to prolonged high temperatures.
Positive Control:
1.Cat.
No. 1303 - Human Brain Tissue Lysate
Species Reactivity:
H, M, R
GI Number:
187610438
Accession Number:
ACD13474
Short Description:
(IN) Interleukin 34
References
1.
Lin H, Lee E, Hestir K, et al. Discovery of a cytokine and its receptor by functional screening of the extracellular proteome. Science 2008; 320:807-11.