Catalog
#:1007
Nuclear factor kappa B (NF-kappaB) is a ubiquitous transcription factor and an essential mediator of gene expression during activation of immune and inflammatory responses. NF-kappaB mediates the expression of a great variety of genes in response to extracellular stimuli including IL-1, TNFalpha and LPS. A serine/threonine protein kinase associated with IL-1 receptor (IRAK) and its homologue mouse pelle-like protein kinase (mPLK) were identified recently. IRAK is associated with the IL-1 receptor subunits IL-1RI and IL-1RAcP after IL-1 binding and serves as a signaling molecule to mediate IL-1 response. IRAK mediates a signaling cascade leading to NF-kappaB activation by members in IL-1 family including IL-1 and a novel cytokine IL-18 (also termed IGIF).
Additional Names: IRAK (CT), IL-1-Receptor Associated Kinase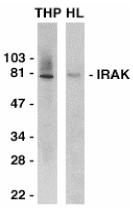 Description
Left:
Western blot analysis of IRAK in THP-1 (THP) and HeLa (HL) whole cell lysates with IRAK

antibody

at 1:2000 dilution.




Below:

Immunocytochemistry of IRAK in HeLa cells with IRAK

antibody at 10 µg/ml.

Other Product Images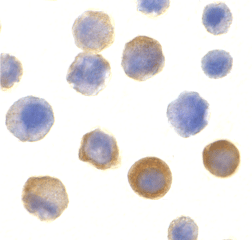 Source:
IRAK
antibody
was raised against a
peptide
corresponding to amino acids near the carboxy terminus of human IRAK.
Purification:
Antibody is DEAE purified
Clonality and Clone:
This is a polyclonal
antibody
.
Host:
IRAK antibody was raised in rabbit.
Please use anti-rabbit secondary antibodies.
Immunogen:
Human IRAK (C-Terminus)
Peptide
(Cat. No. 1007P)
Application:
IRAK antibody can be used for Western blot at 1:1000 dilution and for immunoprecipitation with 2 to 4 ug per sample. An 80 kDa band should be detected in the lysate from non-activated cells. It has no cross response to IRAK2.
Tested Application(s):
E, WB, ICC, IP
Buffer:
Antibody is supplied in PBS containing 0.02% sodium azide.
Blocking Peptide:
Cat. No. 1007P - IRAK
Peptide
Long-Term Storage:
IRAK
antibody
can be stored at 4ºC, stable for one year. As with all antibodies care should be taken to avoid repeated freeze thaw cycles. Antibodies should not be exposed to prolonged high temperatures.
Positive Control:
1. Cat. No.
1201 - HeLa Cell Lysate
2. Cat. No.
1208 - THP-1 Whole Cell Lysate
Species Reactivity:
H, M, R
GI Number:
8928535
Accession Number:
P51617
Short Description:
(CT) IL-1R associated kinase
References
1.
Cao Z; Henzel WJ; Gao X. IRAK: a kinase associated with the interleukin-1 receptor. Science 1996;271:1128-31.
2.
Trofimova M; Sprenkle AB; Green M; Sturgill TW; Goebl MG; Harrington MA. Developmental and tissue-specific expression of mouse pelle-like protein kinase. J Bio Chem 1996; 271: 17609-1
3.
Jianing Huang, Xiong Gao, Shyun Li, and Zhaodan Cao. Recruitment of IRAK to the interleukin 1 receptor complex requires interleukin-1 receptor accessory protein. Proc Natl Acad Sci USA 1997;94:12829-12832
4.
Robinson D, Shibuya K, Mui A, Zonin F, Murphy E, Sana T, Hartley SB, Menon S, Kastelein R, Bazan F, O'Garra A. IGIF does not drive Th1 development but synergizes with IL-12 for interferon-gamma production and activates IRAK and NF-kappaB. Immunity 1997;7:571-581