Catalog#
:3655
Accumulation of malfolded proteins in the endoplasmic reticulum (ER) activates the unfolded protein response (UPR) and the upregulation of the ER molecular chaperones GRP78 and GRP 94 (1,2). These proteins are normally bound to ER transmembrane proteins such as IRE1p and ATF6 (3,4) but ER stress causes their dissociation. This allows IRE1p, a serine-threonine protein kinase to transduce the unfolded protein signal from the ER to the nucleus. IRE1p also has an endoribonuclease activity that is required to splice X-box binding protein (XBP1) mRNA converting it to a potent UPR transcriptional activation (5). Depletion of IRE1p through the expression of a dominant negative form of IRE1p has no effect on transfected cells, but cell death via apoptosis occurs under stress conditions that cause unfolded proteins to accumulate in the ER (6). Two alternatively spliced transcript variants encoding different isoforms have been found for this gene.
Additional Names: IRE1p (CT), Endoplasmic reticulum-to-nucleus signaling 1, ERN1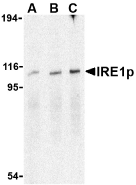 Description
Left:
Western blot analysis of IRE1p in A-20 cell lysate with IRE1p antibody at (A) 0.5, (B) 1 and (C) 2 µg/ml.


Below: Immunocytochemistry of IRE1p in A-20 cells with IRE1p antibody at 1 µg/ml.

Other Product Images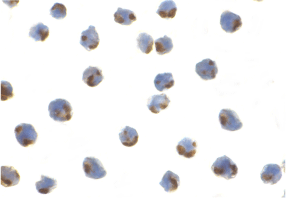 Source:

IRE1p antibody was raised against a 16 amino acid peptide from near the carboxy terminus of human IRE1p.


Purification:

Affinity chromatography purified via peptide column
Clonality and Clone: This is a polyclonal antibody.


Host:

IRE1p antibody was raised in rabbit.
Please use anti-rabbit secondary antibodies.


Immunogen:

Human IRE1p (C-Terminus) Peptide (Cat. No. 3655P)


Application

: IRE1p antibody can be used for the detection of IRE1p by Western blot at 1 – 2 µg/ml.


Tested Application(s):

E, WB, ICC


Buffer:

Antibody is supplied in PBS containing 0.02% sodium azide.


Blocking Peptide:

Cat. No. 3655P - IRE1p Peptide


Long-Term Storage:

IRE1p antibody can be stored at 4ºC, stable for one year. As with all antibodies care should be taken to avoid repeated freeze thaw cycles. Antibodies should not be exposed to prolonged high temperatures.


Positive Control:




1.

Cat. No. 1288 - A-20 Cell Lysate


Species Reactivity:

H, M, R


GI Number:

193806335


Accession Number:

O75460


Short Description:

(CT) Endoplasmic reticulum-to-nucleus signaling 1


References




1.

Little E, Ramakrishnan M, Roy B, et al. The glucose-regulated proteins (GRP78 and GRP94): functions, gene regulation, and applications. Crit. Rev. Eukaryot. Gene Expr. 1994; 4:1-18.


2

. Lee AS. The ER chaperone and signaling regulator GRP78/BiP as a monitor of endoplasmic reticulum stress. Methods 2005; 35:373-81.


3.

Bertolotti A, Zhang Y, Hendershot LM, et al. Dynamic interaction of BiP and ER stress transducers in the unfolded-protein response. Nat. Cell Biol. 2000; 2:326-32.


4.

Shen J, Chen X, Hendershot L, et al. ER stress regulation of ATF6 localization by dissociation of BiP/GRP78 binding and unmasking of Golgi localization signals. Dev. Cell 2002; 3:99-111.