Catalog#:
PM-5315
Nuclear factor kappa B (NF-kappaB) is a ubiquitous transcription factor and an essential mediator of gene expression during activation of immune and inflammatory responses. NF-kappaB mediates the expression of a great variety of genes in response to extracellular stimuli including IL-1, TNFalpha and LPS. A serine/threonine protein kinase associated with IL-1 receptor (IRAK) and its homologue mouse pelle-like protein kinase (mPLK) were identified recently. IRAK is associated with the IL-1 receptor subunits IL-1RI and IL-1RAcP after IL-1 binding and serves as a signaling molecule to mediate IL-1 response. IRAK mediates a signaling cascade leading to NF-kB activation by members in IL-1 family including IL-1 and a novel cytokine IL-18 (also termed IGIF).
Additional Names: IRAK (1F12C1),IL-1-Receptor Associated Kinase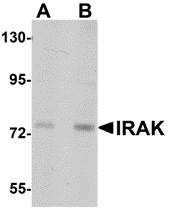 Description
Left:
Western blot analysis of IRAK in HeLa lysates with IRAK
antibody
at (A) 1 and (B) 2 µg/ml.
Source:
Mouse monoclonal IRAK
antibody
was raised against a recombinant protein corresponding to amino acids 618 - 712 of human IRAK.
Purification:
Immunoaffinity chromotography purified IgG
Clonality and Clone:
This is a monoclonal antibody. (Clone 1F12C1)
Host:
IRAK monoclonal antibody was raised in mouse.
Please use anti-mouse secondary antibodies.
Immunogen:
Recombinant protein corresponding to amino acids 618 - 712 of human IRAK.
Application:
RAK
antibody
can be used for Western blot at 1 µg/ml.
Tested Application(s):
E, WB
Buffer:
Antibody is supplied in PBS containing 0.02% sodium azide.
Blocking Peptide:
Long-Term Storage:
IRAK monoclonal
antibody
can be stored at 4ºC, stable for one year.
Positive Control:
1. Cat
. No. 95-112 - IRAK Recombinant Protein
Species Reactivity:
H, M
Short Description:
IL-1-Receptor Associated Kinase
References
1.
Cao Z,; Henzel WJ, and Gao X. IRAK: a kinase associated with the interleukin-1 receptor. Science 1996; 271:1128-31.
2.
Trofimova M, Sprenkle AB, Green M; et al. Developmental and tissue-specific expression of mouse pelle-like protein kinase. J. Bio. Chem. 1996; 271: 17609-12.
3.
Jianing Huang, Xiong Gao, Shyun Li, et al. Recruitment of IRAK to the interleukin 1 receptor complex requires interleukin-1 receptor accessory protein. Proc. Natl. Acad. Sci. USA 1997; 94:12829-32.
4.
Robinson D, Shibuya K, Mui A, et al. IGIF does not drive Th1 development but synergizes with IL-12 for interferon-gamma production and activates IRAK and NF-kB. Immunity 1997; 7:571-81.