Catalog#
:2355
Interleukin-1 (IL-1) and lipopolysaccharide (LPS) induces cellular response through IL-1 receptor (IL-1R) and Toll like receptors (TLR). IL-1 receptor-associated kinase (IRAK and IRAK2) mediates the activation of NF-betaB by IL-1/Toll receptors (1,2), which is a pivotal transcription factor mediating inflammatory and immune response. A novel member in the IRAK/Pelle family was recently identified and designated IRAK-M (3). IRAKs associate with IL-1/Toll receptors after IL-1 or LPS stimulation and the dominant negative mutants of IRAKs inhibit IL-1 or LPS induced NF-betaB activation. Members in IRAK/Pelle family play a central role in IL-1R/TLR mediated inflammatory responses to cytokine IL-1 and LPS.
Additional Names: IRAK-M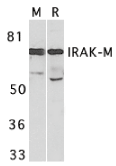 Description
Left:
Western blot analysis of IRAK-M in mouse spleen (M) and rat liver (R) tissue lysates with IRAK-M antibody at 1 µg/ml.


Below: Immunohistochemical staining of rat liver cells using IRAK-M antibody at 2 µg/ml.

Other Product Images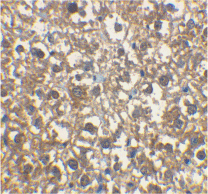 Source:

IRAK-M antibody was raised against a peptide corresponding to amino acids from the carboxy terminus of human IRAK-M .


Purification:

Affinity chromatography purified via peptide column


Clonality and Clone:

This is a polyclonal antibody.


Host:

IRAK-M antibody was raised in rabbit.
Please use anti-rabbit secondary antibodies.


Immunogen:

Human IRAK-M Peptide (Cat. No. 2355P)


Application:

IRAK-M antibody can be used for detection of IRAK-M by Western blot at 0.5 to 1 µg/ml.A 68 kDa major band can be detected. IRAK-M antibody can also detect IRAK-M by immunohistochemistry at 2 µg/ml.IRAK-M antibody has no cross response to IRAK or IRAK2.


Tested Application(s):

E, WB, IHC


Buffer:

Antibody is supplied in PBS containing 0.02% sodium azide.


Blocking Peptide:

Cat. No. 2355P - IRAK-M Peptide


Long-Term Storage:

IRAK-M antibody can be stored at 4ºC, stable for one year. As with all antibodies care should be taken to avoid repeated freeze thaw cycles. Antibodies should not be exposed to prolonged high temperatures.


Positive Control:




1. Cat. No.

1406 - Mouse Spleen Tissue Lysate


2. Cat. No.

1465 - Rat Kidney Lysate


Species Reactivity:

H, M, R


GI Number:

5225377


Accession Number:

AF113136


Short Description:

A novel IL-1R Associated Kinase


References




1.

Cao Z; Henzel WJ; Gao X. IRAK: a kinase associated with the interleukin-1 receptor. Science 1996;271:1128-31.


2.

Muzio M, Ni J, Feng P, Dixit VM. IRAK (Pelle) family member IRAK-2 and MyD88 as proximal mediators of IL-1 signaling. Science 1997;278:1612-5


3.

Wesche H, Gao X, Li X, Kirschning CJ, Stark GR, Cao Z. IRAK-M is a novel member of the Pelle/interleukin-1 receptor-associated kinase (IRAK) family. J Biol Chem. 1999;274(27):19403-10.