Catalog#
:3595
The pro-inflammatory cytokine IL-1 induces cellular response through two subunits of its receptor, IL-1 receptor I (IL-1RI) and IL-1 receptor accessory protein (IL-1RAcP). IL-1 receptor-associated kinase (IRAK) mediates activation of NF-kappaB, which is a pivotal transcription factor mediating inflammatory and immune response. A novel member in the IRAK/Pelle family has been identified and designated IRAK2 (1). Both IRAK and IRAK2 recruit to the subunits of the IL-1R complex after IL-1 binding and lead to NF-kappaB activation. IRAKs also associate with Toll like receptor (TLR) and the dominant negative mutants of IRAKs inhibit LPS-induced NF-?B activation (2,3). Members in IRAK/Pelle family play a central role in IL-1R and TLR mediated inflammatory response. Unlike human IRAK2, murine IRAK2 exists as four alternately spliced isoforms (IRAK2a-d), with two isoforms (IRAK2c and d) acting in an inhibitory fashion (4). IRAK2 is expressed in a variety of tissues.
Additional Names: IRAK2 (CT), mIRAK2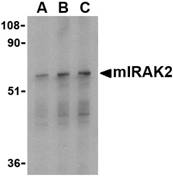 Description
Left:
Western blot analysis of IRAK2 in RAW264.7 whole cell lysate with mIRAK2
antibody
at (A) 0.5, (B) 1, and (C) 2 µg/ml.
Below:
Immunocytochemistry of IRAK2 in A-20 cells with IRAK2
antibody
at 1 µg/ml.
Other Product Images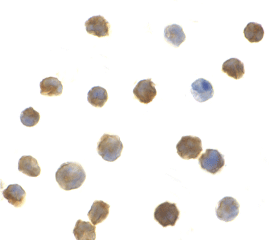 Source:
IRAK2
antibody
was raised against a
peptide
corresponding to 17 amino acids near the carboxy-terminus of mouse IRAK2a which is common to all four isoforms. mIRAK2 antibody will also recognize human IRAK2.
Purification:
Affinity chromatography purified via
peptide
column
Clonality and Clone:
This is a polyclonal
antibody
.
Host:
IRAK2 antibody was raised in rabbit.
Please use anti-mouse secondary antibodies.
Immunogen:
Human IRAK2 (C-Terminus)
Peptide
(Cat. No. 3595P)
Application:
IRAK2 antibody can be used for detection of mouse IRAK2 by Western blot at 0.5 - 1 µg/ml.A 65 kDa band should be detected. Anti-IRAK2 has no cross response to IRAK. Anti-IRAK2 will also recognize human IRAK2.
Tested Application(s):
E, WB, ICC
Buffer:
Antibody is supplied in PBS containing 0.02% sodium azide.
Blocking Peptide:
Cat. No. 3595P - IRAK2
Peptide
Long-Term Storage:
IRAK2
antibody
can be stored at 4ºC, stable for one year. As with all antibodies care should be taken to avoid repeated freeze thaw cycles. Antibodies should not be exposed to prolonged high temperatures.
Positive Control:
1. Cat.
No. 1283 - RAW264.7 Cell Lysate
2. Cat.
No. 1288 - A-20 Cell Lysate
Species Reactivity:
H, M
GI Number:
37725373
Accession Number:
AAO24761
Short Description:
(CT) mouse IL-1R associated kinase
References
1.
Muzio M, Ni J, Feng P, et al. IRAK (Pelle) family member IRAK-2 and MyD88 as proximal mediators of IL-1 signaling. Science 1997; 278:1612-5.
2.
Zhang FX, Kirschning CJ, Mancinelli R, et al. Bacterial lipopolysaccharide activates nuclear factor-kappaB through interleukin-1 signaling mediators in cultured human dermal endothelial cells and mononuclear phagocytes. J. Biol. Chem. 1999; 274:7611-4.
3.
Yang RB, Mark MR, Gurney AL, et al. Signaling events induced by lipopolysaccharide-activated toll-like receptor 2. J. Immunol. 1999; 163:639-43.
4.
Hardy MP and O'Neill LAJ. The murine IRAK2 gene encodes four alternately spliced isoforms, two of which are inhibitory. J. Biol. Chem. 2004; 279:27699-708.