GITRL Antibody
Catalog# : 3591
The tumor necrosis factor (TNF) and TNF receptor (TNFR) gene superfamilies regulate numerous biological functions including cell proliferation, differentiation, and survival through regulating the activation of the transcription factor NF-kappaB and various mitogen-activated protein kinases (reviewed in 1). The glucocorticoid-induced tumor necrosis factor receptor (GITR) is an emerging member of this family that is expressed on CD4+ CD25+ regulatory T cells and appears to have crucial immune regulation functions (2,3). Its ligand GITRL is expressed in endothelial and antigen-presenting cells (4) and can activate NF-kappaB, induce both pro- and anti-apoptotic effects, inhibit the suppressive activity of regulatory T cells, and co-stimulate responder T cells through GITR (5). Dominant negative forms of NIK and TRAF2 expressed in transfected 293 cells substantially inhibited NF-kappaB activation, suggesting that the GITRL-GITR pathway involves both NIK and TRAF2 (4).
Additional Names : GITRL, AITRL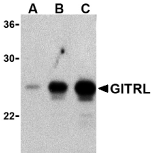 Description
Left: Western blot analysis of (A) 5 ng, (B) 25 ng, and (C) 50 ng of purified recombinant GITRL with ITRL

antibody

at 1 µg/ml.
Below: Immunocytochemistry of GITRL in THP-1 cells with GITRL antibody at 10 µg/ml.
Other Product Images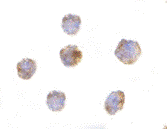 Source : GITRL antibody was raised against purified recombinant human GITR ligand.
Purification : Affinity chromatography purified via

peptide

column
Clonality and Clone : This is a

polyclonal antibody

.
Host : GITRL antibody was raised in rabbit. Please use anti-rabbit secondary antibodies.
Immunogen : Recombinant human GITR ligand
Application : GITRL antibody can be used for the detection of GITRL by Western blot at 1 µg/ml.
Tested Application(s) : E, WB, ICC
Buffer : Antibody is supplied in PBS containing 0.02% sodium azide.
Blocking Peptide : Cat.No. 3591P - GITRL Peptide
Long-Term Storage : GITRL antibody can be stored at 4ºC, stable for one year. As with all antibodies care should be taken to avoid repeated freeze thaw cycles. Antibodies should not be exposed to prolonged high temperatures.
Positive Control
1.Cat. No. 1208 - THP-1 Cell Lysate
Species Reactivity :H, M
GI Number : 13124621
Accession Number : Q9UNG2
Short Description : glucocorticoid-induced TNF receptor ligand
References
1.Gaur U, Aggarwal BB. Regulation of proliferation, survival and apoptosis by members of the TNF superfamily. Biochem. Pharmacol. 2003; 66:1403-8.
2.Ronchetti S, Nocentini G, Riccardi C, et al. Role of GITR in activation response of T lymphocytes.Blood 2002; 100:350-2.