IL-1RAcP Antibody
Catalog# : 2129
The pro-inflammatory cytokine IL-1 induced cellular response requires two subunits of its receptor, IL-1 receptor I (IL-1RI) and IL-1 receptor accessory protein (IL-1RAcP) (1). IL-1RAcP forms a complex with IL-1RI in response to IL-1 treatment. The IL-1 receptor-associated kinase (IRAK), which mediates activation of NFkappa-B inducing kinae (NIK) and of NF-kappaB, recruits to the IL-1R complex through IL-1RAcP (2). IL-1 activation of stress-activated protein kinase and of acid sphingomyelinase also requires IL-1RAcP (3,4). Like IL-1RI, IL-1RAcP subunit is essential for IL-1 mediated cellular response. IL-1RAcP is expressed in many tissues.
Additional Names : IL-1RAcP (C2), IL-1RAcP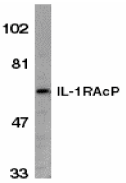 Description
Left: Western blot analysis of IL-1RAcP in HeLa whole cell lysate with IL-1RAcP antibody (C2) at 1:1000 dilution.
Source : IL-1RAcP antibody was raised against a peptide corresponding to amino acids 525 to 540 of human IL-1RAcP, which is identical to those of mouse and rat origins.
Purification : Affinity chromatography purified via peptide column
Clonality and Clone : This is a

polyclonal antibody

.
Host : IL-1RAcP antibody was raised in rabbit. Please use anti-rabbit secondary antibodies.
Immunogen : Human IL-1RAcP (C-Terminus 2) Peptide (Cat. No. 2129P)
Application : IL-1RAcP antibody can be used for detection of IL-1RAcP by Western blot at 1:1000 to 1:2000 dilution. An approximately 66 kDa band can be detected. This

polyclonal antibody

has no cross activity to other members in the IL-1 receptor family.
Tested Application(s) : E, WB
Buffer : Antibody is supplied in PBS containing 0.02% sodium azide.
Blocking Peptide : Cat. No. 2129P - IL-1RAcP Peptide
Long-Term Storage : IL-1RAcP antibody can be stored at 4ºC, stable for one year. As with all antibodies care should be taken to avoid repeated freeze thaw cycles. Antibodies should not be exposed to prolonged high temperatures.
Positive Control
1. Cat. No. 1201 - HeLa Cell Lysate
Species Reactivity :H
GI Number : 2599126
Accession Number : AF029213
Short Description : (C2) IL-1R accessory protein
References
1. Greenfeder SA, Nunes P, Kwee L, Labow M, Chizzonite RA, Ju G. Molecular cloning and characterization of a second subunit of the interleukin 1 receptor complex. J Biol Chem 1995;270:13757-65
2. Huang J, Gao X, Li S, Cao Z. Recruitment of IRAK to the interleukin 1 receptor complex requires interleukin 1 receptor accessory protein. Proc Natl Acad Sci U S A 1997;94:12829-32
3. Wesche H, Korherr C, Kracht M, Falk W, Resch K, Martin MU. The interleukin-1 receptor accessory protein (IL-1RAcP) is essential for IL-1-induced activation of interleukin-1 receptor-associated kinase (IRAK) and stress-activated protein kinases (SAP kinases). J Biol Chem 1997;272:7727-31
4. Hofmeister R, Wiegmann K, Korherr C, Bernardo K, Kronke M, Falk W. Activation of acid sphingomyelinase by interleukin-1 (IL-1) requires the IL-1 receptor accessory protein. J Biol Chem 1997;272:27730-6 (RD1299)