BAFF Receptor Antibody
Catalog# : 3097
Members in the TNF superfamily regulate immune responses and induce apoptosis. A novel member in the TNF family was recently identified by several groups and designated BAFF, BLyS, TALL-1, THANK, and zTNF4 (1-4). BAFF/BLyS was characterized as a B cell activator since it induced B cell proliferation and immunoglobulin secretion (1,2). Two receptors, TACI and BCMA, for BAFF were originally identified (5). A third receptor was identified recently and designated BAFF-R and BR3 for BLyS receptor 3 (6,7). Unlike BCMA and TACI, which bind to BAFF and April, BAFF-R/BR3 is specific for BAFF and plays a predominant role in BAFF induced B cell development and survival. BAFF and its receptors are involved in B cell associated autoimmune diseases, and activate NF-kB and c-jun N-terminal kinase (4-6).
Additional Names : BAFF Receptor (CT), BAFF-R, BR3, BLyS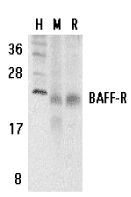 Description
Left: Western blot analysis of BAFF Receptor in human (H), mouse (M), and rat (R) spleen tissue lysates with BAFF Receptor antibody at 5 µg/ml.
Below: Immunohistochemistry of BAFF Receptor in human tonsil tissue with BAFF Receptor antibody at 5 µg/ml.
Other Product Images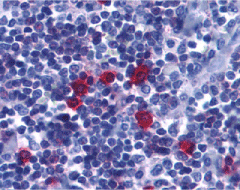 Source : BAFF Receptor antibody was raised against a
synthetic peptide
corresponding to amino acids near the carboxy terminus of human BAFF Receptor The peptide sequence is identical between human and mouse origin.
Purification : Affinity chromatography purified via peptide column
Clonality and Clone : This is a
polyclonal antibody
.
Host : BAFF Receptor antibody was raised in rabbit. Please use anti-rabbit secondary antibodies.
Immunogen : Human BAFF Receptor (C-Terminus) Peptide (Cat. No. 3097P)
Application : BAFF Receptor antibody can be used for detection of BAFF Rexeptor by Western blot at 2 to 5 µg/ml.
Tested Application(s) : E, WB, IHC
Buffer : Antibody is supplied in PBS containing 0.02% sodium azide.
Blocking Peptide : Cat. No. 3097P - BAFF Receptor Peptide
Long-Term Storage : BAFF Receptor antibody can be stored at 4ºC, stable for one year. As with all antibodies care should be taken to avoid repeated freeze thaw cycles. Antibodies should not be exposed to prolonged high temperatures.
Positive Control
1. Cat. No. 1306 - Human Spleen Tissue Lysate
2. Cat. No. 1406 - Mouse Spleen Tissue Lysate
3. Cat. No. 1466 - Rat Spleen Tissue Lysate
4. Cat. No. 1315 - Human Tonsil Tissue Lysate
Species Reactivity :H, M, R
GI Number : 15208475
Accession Number : AAK91826
Short Description : (CT) Receptor for BAFF
References
1. Moore PA, Belvedere O, Orr A, et al. BLyS: member of the tumor necrosis factor family and B lymphocyte stimulator. Science 1999;285:260-3
2. Schneider P, MacKay F, Steiner V, et al. BAFF, a novel ligand of the tumor necrosis factor family, stimulates B cell growth. J Exp Med 1999;189:1747-56
3. Shu HB, Hu WH, Johnson H. TALL-1 is a novel member of the TNF family that is down-regulated by mitogens. J Leukoc Biol 1999;65:680-3
4. Mukhopadhyay A, Ni J, Zhai Y, Yu GL, Aggarwal BB. Identification and characterization of a novel cytokine, THANK, a TNF homologue that activates apoptosis, nuclear factor-kappaB, and c-Jun NH2-terminal kinase. J Biol Chem 1999 ;274:15978-81