PNAS4 Antibody
Catalog# : 5217
PNAS4 is a highly conserved protein that shares high homology from plants to animals. It was initially identified as a putative apoptosis-related protein in the human acute promyelocytic leukemia cell line NB4. PNAS4 is activated during the early response to DNA damage and can inhibit proliferation via apoptosis when overexpressed in some tumor cells such as U2OS, SKOV3, and A549. PNAS4 inhibits tumor cell proliferation through the following mechanisms: (i) overexpression of PNAS4 causes S phase arrest by regulating the expression of cell cycle-related proteins and (ii) PNAS4 induces apoptosis through the mitochondrial apoptosis pathway. Recent evidence has shown that PNAS4 may be involved in the genesis of some cancers and could be a potential candidate for lung cancer therapy alone or in combination with gemcitabine. At least two isoforms of PNAS4 are known to exist.
Additional Names : PNAS4, PPPDE peptidase domain containing 1, CGI-146, FAM152A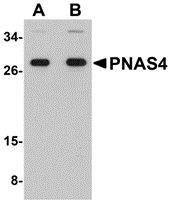 Description
Left: Western blot analysis of PNAS4 in EL4 cell lysate with PNAS4 antibody at (A) 1 and (B) 2 µg/ml.
Source : PNAS4 antibody was raised against a 19

amino acid peptide

near the carboxy terminus of human PNAS4.
Purification : Affinity chromatography purified via

peptide

column
Clonality and Clone : This is a

polyclonal antibody

.
Host : PNAS4 antibody was raised in rabbit. Please use anti-rabbit secondary antibodies.
Application : PNAS4

antibody

can be used for detection of PNAS4 by Western blot at 1 - 2 µg/ml.
Tested Application(s) : E, WB
Buffer : Antibody is supplied in PBS containing 0.02% sodium azide.
Blocking Peptide : Cat.No. 5217P - PNAS4 Peptide
Long-Term Storage : PNAS4 antibody can be stored at 4ºC, stable for one year. As with all antibodies care should be taken to avoid repeated freeze thaw cycles. Antibodies should not be exposed to prolonged high temperatures.
Positive Control
1. Cat. No. 1287 - EL4 Cell Lysate
Species Reactivity :H, M, R
GI Number : 38708309
Accession Number : NP_057160
Short Description : PPPDE peptidase domain containing 1
References
1. Yao S, Xie L, Qian M, et al. Pnas4 is a novel regulator for convergence and extension during vertebrate gastrulation. FEBS Lett. 2008; 582:2325-32.
2. Yan F, Gou L, Yang J, et al. A novel pro-apoptosis gene PNAS4 that induces apoptosis in A549 human lung adenocarcinoma cells and inhibits tumor growth in mice. Biochimie 2009; 91:502-7.
3. Yuan Z, Liu H, Yan F, et al. Improved therapeutic efficacy against murine carcinoma by combining honokiol with gene therapy of PNAS-4, a novel pro-apoptotic gene. Cancer Sci. 2009; 100:1757-66.
4. Yuan Z, Yan F, Wang YS, et al. PNAS-4, a novel pro-apoptotic gene, can potentiate antineoplastic effects of cisplatin. Cancer Chemother. Pharmacol. 2009; .