RICK Antibody
Catalog# : 2075
Apoptosis is mediated by death domain (DD) and/or caspase recruitment domain (CARD) containing molecules and a caspase family of proteases. DD-containing serine/threonine kinase RIP regulates Fas-induced apoptosis. A novel CARD-containing serine/threonine kinase was recently identified and designated RICK/RIP2/CARDIAK for RIP-like interacting CLARP kinase, receptor interacting protein-2, and CARD-containing ICE associated kinase, respectively, (1-3). RICK contains an N-terminal kinase catalytic domain and a C-terminal CARD domain. Overexpression of RICK induced apoptosis and activation of NF-kappaB and JNK. RICK interacts with members of the TRAF family, CLARP and caspase-1. Thus, RICK represents a novel kinase that regulates TNF and Fas induced-apoptosis and that is involved in the generation of proinflammatory cytokine IL-1b. The messenger RNA of RICK is expressed in multiple human tissues.
Additional Names : RICK (NT), RIP2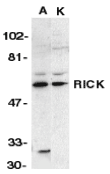 Description
Left: Western blot analysis of RICK in A431 (A) and K562 (K) whole cell lysate with RICK

antibody

at 1:1000 dilution.
Below: Immunocytochemistry of RICK in A431 cells with RICK antibody at 10 µg/ml.
Other Product Images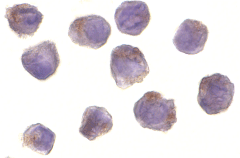 Source : RICK antibody was raised against a

peptide

corresponding to amino acids near the amino terminus of human RICK.
Purification : Affinity chromatography purified via peptide column
Clonality and Clone : This is a polyclonal antibody.
Host : RICK antibody was raised in rabbit. Please use anti-rabbit secondary antibodies.
Immunogen : Human RICK (N-Terminus)

Peptide

(Cat. No. 2075P)
Application : RICK antibody can be used for detection of RICK by Western blot at 1:1000 dilution. An approximately 60 kDa band can be detected.
Tested Application(s) : E, WB, ICC
Buffer : Antibody is supplied in PBS containing 0.02% sodium azide.
Blocking Peptide : Cat. No. 2075P - RICK

Peptide
Long-Term Storage : RICK antibody can be stored at 4ºC, stable for one year. As with all antibodies care should be taken to avoid repeated freeze thaw cycles. Antibodies should not be exposed to prolonged high temperatures.
Positive Control
1. Cat. No. 1202 - A431 Cell Lysate
2. Cat. No. 1204 - K562 Cell Lysate
Species Reactivity :H, M, R
GI Number : 20455217
Accession Number : O43353
Short Description : (NT) RIP-like Interacting CLARP Kinase
References
1. Inohara N, del Peso L, Koseki T, Chen S, Nunez G. RICK, a novel protein kinase containing a caspase recruitment domain, interacts with CLARP and regulates CD95-mediated apoptosis. J Biol Chem 1998;273:12296-300
2. McCarthy JV, Ni J, Dixit VM. RIP2 is a novel NF-kappaB-activating and cell death-inducing kinase. J Biol Chem 1998;273:16968-75
3. Thome M, Hofmann K, Burns K, Martinon F, Bodmer JL, Mattmann C, Tschopp J. Identification of CARDIAK, a RIP-like kinase that associates with caspase-1. Curr Biol 1998;8:885-8 (RD1299)