RIP3 Antibody
Catalog# : 2283
Certain serine/threonine protein kinases, such as ASK1, RIP, DAP, and ZIP kinases, are mediators of apoptosis. Receptor interacting proteins including RIP and RIP2/RICK mediate apoptosis induced by TNFR1 and Fas, two prototype members in the death receptor family. A novel member in the RIP kinase family was recently identified and designated RIP3 (1-3). RIP3 contains N-terminal kinase domain but, unlike RIP or RIP2, lacks the C-terminal death or CARD domain. RIP3 binds to RIP and TNFR1, mediates TNFR1 induced apoptosis, and attenuates RIP and TNFR1 induced NF-kB activation. Overexpression of RIP3 induces apoptosis and NF-kappaB activation. The messenger RNA of RIP3 is expressed in a subset of adult tissues (2,3).
Additional Names : RIP3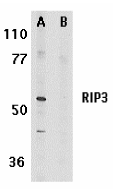 Description
Left: Western blot analysis of RIP3 in mouse 3T3 whole cell lysate in the absence (A) or presence (B) of blocking

peptide

with RIP3 antibody at 1 µg/ml.
Below: Immunohistochemistry of RIP3 in rat kidney tissue with RIP3

antibody

at 5 µg/ml.
Other Product Images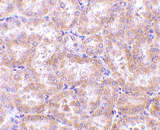 Source : RIP3 antibody was raised against a

peptide

corresponding to amino acids 473 to 486 of murine RIP3.
Purification : Affinity chromatography purified via peptide column
Clonality and Clone : This is a

polyclonal antibody

.
Host : RIP3 antibody was raised in rabbit. Please use anti-rabbit secondary antibodies.
Immunogen : Human RIP3 Peptide (Cat. No. 2283P)
Application : RIP3 antibody can be used for detection of RIP3 by Western blot at 0.5 to 1 µg/ml.An approximately 57 kDa band can be detected.
Tested Application(s) : E, WB, IHC
Buffer : Antibody is supplied in PBS containing 0.02% sodium azide.
Blocking Peptide : Cat. No. 2283P - RIP3 Peptide
Long-Term Storage : RIP3 antibody can be stored at 4ºC, stable for one year. As with all antibodies care should be taken to avoid repeated freeze thaw cycles. Antibodies should not be exposed to prolonged high temperatures.
Positive Control
1. Cat. No. 1212 - 3T3 Cell Lysate
Species Reactivity :M, R
GI Number : 6063101
Accession Number : AAF03133
Short Description : Mouse Receptor Interacting Protein 3
References
1. Yu PW, Huang BC, Shen M, Quast J, Chan E, Xu X, Nolan GP, Payan DG, Luo Y. Identification of RIP3, a RIP-like kinase that activates apoptosis and NFkappaB. Curr Biol. 1999;9(10):539-42.
2. Sun X, Lee J, Navas T, Baldwin DT, Stewart TA, Dixit VM. RIP3, a novel apoptosis-inducing kinase. J Biol Chem. 1999;274(24):16871-5.
3. Pazdernik NJ, Donner DB, Goebl MG, Harrington MA. Mouse receptor interacting protein 3 does not contain a caspase-recruiting or a death domain but induces apoptosis and activates NF-kappaB. Mol Cell Bio. 1999; 19(10):6500-8 (WD0102)