Smac Antibody
Catalog# : 2411
The inhibitor of apoptosis proteins (IAPs) regulate programmed cell death by inhibiting members of the caspase family of enzymes. A novel mammalian protein that binds to IAPs and neutralizes the inhibitory effect of IAPs on caspases was recently identified and designated Smac/DIABLO (1,2). Smac/DIABLO is a mitochondrial protein that is released along with cytochrome c during apoptosis and activates cytochrome c/Apaf-1/capase-9 pathway. Analysis of the structural basis of Smac/DIABLO reveals that the N-terminal amino acids are required for binding of Smac/DIABLO to IAPs and activation of caspases (3-6). Smac/DIABLO is expressed in a variety of human and mouse tissues (1,2).
Additional Names : Smac (CT), DIABLO, mSmac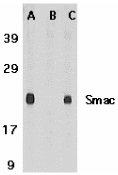 Description
Left: Western blot analysis of Smac in mouse heart tissue lysate in the absence (A) or presence (B) of blocking and in rat heart tissue lysate with Smac

peptide

antibody

at 1 µg /ml.
Below: Immunohistochemical staining of mouse spleen tissue using Smac antibody at 2 µg/ml.
Other Product Images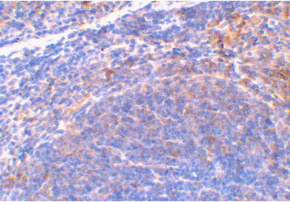 Source : Smac

antibody

was raised against a peptide corresponding to amino acids 222 to 237 of murine Smac/DIABLO.
Purification : Affinity chromatography purified via

peptide

column
Clonality and Clone : This is a

polyclonal antibody

.
Host : Smac antibody was raised in rabbit. Please use anti-rabbit secondary antibodies.
Immunogen : Human Smac Peptide (Cat. No. 2411P)
Application : Smac antibody can be used for detection of Smac by Western blot at 0.5 to 1 µg/ml.A 25 kDa band can be detected.
Tested Application(s) : E, WB, IHC
Buffer : Antibody is supplied in PBS containing 0.02% sodium azide.
Blocking Peptide : Cat. No. 2411P - Smac

Peptide
Long-Term Storage : Smac antibody can be stored at 4ºC, stable for one year. As with all antibodies care should be taken to avoid repeated freeze thaw cycles. Antibodies should not be exposed to prolonged high temperatures.
Positive Control
1. Cat. No. 1401 - Mouse Heart Tissue Lysate
Species Reactivity :H, M, R
GI Number : 8953908
Accession Number : AF203914
Short Description : (CT) IAPs binding protein
References
1. Du C, Fang M, Li Y, Li L, Wang X. Smac, a mitochondrial protein that promotes cytochrome c-dependent caspase activation by eliminating IAP inhibition. Cell. 2000;102(1):33-42.
2. Verhagen AM, Ekert PG, Pakusch M, Silke J, Connolly LM, Reid GE, Moritz RL, Simpson RJ, Vaux DL. Identification of DIABLO, a mammalian protein that promotes apoptosis by binding to and antagonizing IAP proteins. Cell. 2000;102(1):43-53.
3. Srinivasula SM, Datta P, Fan XJ, Fernandes-Alnemri T, Huang Z, Alnemri ES. Molecular Determinants of the Caspase-promoting Activity of Smac/DIABLO and Its Role in the Death Receptor Pathway. J Biol Chem. 2000;275(46):36152-36157.
4. Chai J, Du C, Wu JW, Kyin S, Wang X, Shi Y. Structural and biochemical basis of apoptotic activation by Smac/DIABLO. Nature. 2000;406(6798):855-62.