RIPK1 Antibody
Catalog# : 5389
RIPK1 (Receptor Interacting Protein) is a crucial 74 kD adaptor kinase in several of stress-induced signaling pathways and on the crossroad of a cell's decision to live or die. RIPK1 contains an N-terminal region with homology to protein kinases, an intermediate domain capable of association with MAPKKK and a C-terminal region containing a death domain motif present in the Fas and TNFR1 intracellular domains. Full length RIPK1 is important for signallling to NF-kappa-B, MAPKs and necrosis, whereas caspase-8 generates a C-terminal RIPK1 cleavage fragment, promoting TNF-induced apoptosis. It is required for TNFRSF1A-mediated and TLR3-induced NF-kappa-B activation. RIPK1-deficient mice fail to thrive, displaying extensive apoptosis in both lymphoid and adipose tissues and dying at 1-3 days of age.
Additional Names : RIPK1, Receptor-interacting serine/threonine-protein kinase 1, RIP, RIP1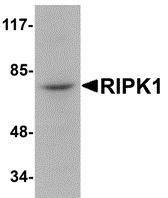 Description
Left: Western blot analysis of RIPK1 in rat kidney tissue lysate with RIPK1

antibody

at 1 µg/ml.
Source : RIPK1 antibody was raised against a 15 amino acid peptide from near the amino terminus of human RIPK1.
Purification : Affinity chromatography purified via

peptide

column
Clonality and Clone : Polyclonal
Host : RIPK1

antibody

was raised in rabbit. Please use anti-rabbit secondary antibodies.
Application : RIPK1 antibody can be used for detection of RIPK1 by Western blot at 1 - 2 µg/ml.
Tested Application(s) : E, WB
Buffer : Antibody is supplied in PBS containing 0.02% sodium azide.
Blocking Peptide : Cat.No. 5389P - RIPK1

Peptide
Long-Term Storage : RIPK1 antibody can be stored at 4ºC, stable for one year. As with all antibodies care should be taken to avoid repeated freeze thaw cycles. Antibodies should not be exposed to prolonged high temperatures.
Positive Control
1. Cat. No. 1465 - Rat Kidney Tissue Lysate
Species Reactivity :H, M, R
GI Number : 57242761
Accession Number : NP_003795
Short Description : Receptor-interacting kinase 1
References
1. Stanger BZ, Leder P, Lee TH, et al. RIP: a novel protein containing a death domain that interacts with Fas/APO-1 (CD95) in yeast and causes cell death. Cell 1995; 81:513-23.
2. Hsu H, Huang J, Shu HB, et al. TNF-dependent recruitment of the protein kinase RIP to the TNF receptor-1 signaling complex. Immunity 1996; 4:387-96.
3. Meylan E, Burns K, Hofmann K, et al. RIP1 is an essential mediator of Toll-like receptor 3-induced NF-kappa B activation. Nat. Immunol. 2004; 5:503-7.
4. Festjens N, Vanden Bergh T, Cornelis S, et al. RIP1, a kinase on the crossroads of a cell's decision to live or die. Cell Death Differ. 2007;14:400-10.