SPG11 Antibody
Catalog# : 5015
Hereditary spastic paraplegias (HSPs) are genetically and phenotypically heterogeneous disorders. Spastic paraplegia with thinning of the corpus callosum (ARHSP-TCC) is a relatively frequent form of complicated hereditary spastic paraplegia (cHSP) in which mental retardation and muscle stiffness at onset are followed by slowly progressive paraparesis and cognitive deterioration. Mutations of the SPG11 gene encoding the spatacsin protein have been identified as a major cause of HSP-TCC. Spatacsin is a potential transmembrane protein that is phosphorylated upon DNA damage. It is expressed in all structures of the brain, with a high expression in the cerebellum. SPG11 mutations may occur more frequently in familial than sporadic forms of cHSP without TCC. Kjellin syndrome is found to be associated with mutations in not only the SPG15 gene but also SPG11 gene. Recent studies show Parkinsonism may initiate SPG11-linked HSP TCC and that SPG11 may cause juvenile Parkinsonism.
Additional Names : SPG11, Spastic paraplegia 11, colorectal carcinoma-associated protein, spatacsin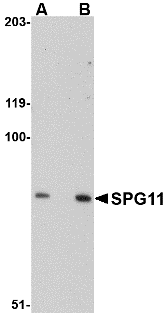 Description
Left: Western blot analysis of SPG11 in mouse heart tissue lysate with SPG11 antibody at (A) 0.5 and (B) 1 µg/ml.
Source : SPG11 antibody was raised against a 15 amino acid peptide of human SPG11.
Purification : Affinity chromatography purified via peptide column
Clonality and Clone : This is a polyclonal antibody.
Host : SPG11 antibody was raised in rabbit. Please use anti-rabbit secondary antibodies.
Application : SPG11 antibody can be used for detection of SPG11 by Western blot at 0.5 – 1 µg/ml.
Tested Application(s) : E, WB
Buffer : Antibody is supplied in PBS containing 0.02% sodium azide.
Blocking Peptide : Cat.No. 5015P - SPG11 Peptide
Long-Term Storage : SPG11 antibody can be stored at 4ºC, stable for one year. As with all antibodies care should be taken to avoid repeated freeze thaw cycles. Antibodies should not be exposed to prolonged high temperatures.
Positive Control
1. Cat. No. 1401 - Mouse Heart Tissue Lysate
Species Reactivity :H, M, R
GI Number : 158253417
Accession Number : AAI53880
Short Description : Spastic paraplegia 15
References
1. Stevanin G, Azzedine H, Denora P, et al. Mutations in SPG11, encoding spatacsin, are a major cause of spastic paraplegia with thin corpus callosum. Nature Gen. 2007; 39:366–372.
2. Paisan-Ruiz C, Dogu O, Yilmaz A, et al. SPG11 mutations are common in familial cases of complicated hereditary spastic paraplegia. Neurology 2008; 70:1384-9.
3. Crimella C, Arnoldi A, Crippa F, et al. Point mutations and a large intragenic deletion in SPG11 in complicated spastic paraplegia without thin corpus callosum. J. Med. Genet. 2009; 46:345-51.
4. Orlén H, Melberg A, Raininko R, et al. SPG11 mutations cause Kjellin syndrome, a hereditary spastic paraplegia with thin corpus callosum and central retinal degeneration. Am. J. Med. Genet. B Neuropsychiatr. Genet. 2009; epub.