PUMA Antibody
Catalog# : 3043
Apoptosis is related to many diseases and development. The p53 tumor-suppressor protein induces apoptosis through transcriptional activation of several genes. A novel p53 inducible pro-apoptotic gene was identified recently and designated PUMA (for p53 upregulated modulator of apoptosis) and bbc3 (for Bcl-2 binding component 3) in human and mouse (1-3). PUMA/bbc3 is one of the pro-apoptotic Bcl-2 family members including Bax and Noxa, which are also transcriptional targets of p53. The PUMA gene encodes two BH3 domain-containing proteins termed PUMA-alpha and PUMA-beta (1). PUMA proteins bind Bcl-2, localize to the mitochondria, and induce cytochrome c release and apoptosis in response to p53. PUMA may be a direct mediator of p53-induced apoptosis.
Additional Names : PUMA (NT), bbc3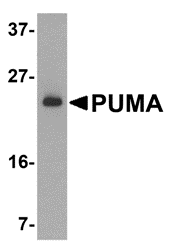 Description
Left: Western blot analysis of PUMA expression in K562 cell lysate with PUMA antibody at 2 µg /ml.
Below: Immunohistochemistry of PUMA in human breast carcinoma with PUMA antibody at 10 µg/ml.
Other Product Images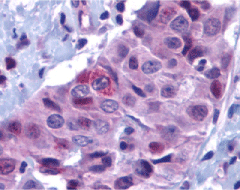 Source : PUMA antibody was raised against a

synthetic peptide

corresponding to 14 amino acids near the amino terminus of
human PUMA-a This sequence is identical between a and b forms of the PUMA proteins.
Purification : Affinity chromatography purified via peptide column
Clonality and Clone : This is a

polyclonal antibody

.
Host : PUMA antibody was raised in rabbit. Please use anti-rabbit secondary antibodies.
Immunogen : Human PUMA (N-Terminus)

Peptide

(Cat. No. 3043P)
Application : PUMA antibody can be used for detection of PUMA by Western blot at 2 to 4 µg/ml.K562 cell lysate can be used as a positive control and a band at approximately 23 kDa can be detected. antibody can also detect PUMA by immunohistochemistry at 10 µg/ml.
Tested Application(s) : E, WB, IHC
Buffer : Antibody is supplied in PBS containing 0.02% sodium azide.
Blocking Peptide : Cat. No. 3043P - PUMA Peptide
Long-Term Storage : PUMA antibody can be stored at 4ºC, stable for one year. As with all antibodies care should be taken to avoid repeated freeze thaw cycles. Antibodies should not be exposed to prolonged high temperatures.
Positive Control
1. Cat. No. 1204 - K562 Cell Lysate
Species Reactivity :H
GI Number : 15193488
Accession Number : NP_055232
Short Description : (NT) A novel member in Bcl-2 family
References
1. Nakano K, Vousden KH. PUMA, a novel proapoptotic gene, is induced by p53. Mol Cell. 2001;7(3):683-94.
2. Yu J, Zhang L, Hwang PM, Kinzler KW, Vogelstein B. PUMA induces the rapid apoptosis of colorectal cancer cells. Mol Cell. 2001;7(3):673-82.
3. Han J, Flemington C, Houghton AB , Gu Z, Zambetti GP, Lutz RJ, Zhu L, Chittenden T. Expression of bbc3, a pro-apoptotic BH3-only gene, is regulated by diverse cell death and survival signals. Proc Natl Acad Sci U S A. 2001;98(20):11318-23.