ADAP Antibody
Catalog# :4279
The adhesion and degranulation adaptor protein (ADAP) was initially identified as a molecular adapter that couples T cell receptor (TCR) stimulation to the avidity of integrins governing T cell adhesion. TCR stimulation promotes the formation of a multi-protein complex containing CARMA1, MALT1, and BCL-10, which through the association of ADAP, ultimately activates the NF-kappaB family of transcription factors. More recent experiments have shown that ADAP controls optimal T cell proliferation, cytokine production, and expression of the Bcl-2 family member Bcl-x(L), suggesting that ADAP regulates T cell activation by promoting antigen-dependent T cell-antigen presenting cell (APC) activation. At least three isoforms of ADAP are known to exist.
Additional Names : ADAP (NT), Adhesion and degranulation adapter protein, FYN binding protein, FYB-120/130, SLAP-130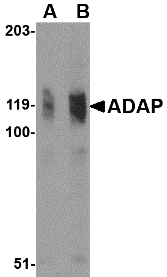 Description
Left: Western blot analysis of ADAP in K562 cell lysate with ADAP antibody at (A) 0.5 and (B) 1 µg/ml.
Below: Immunocytochemistry of ADAP in K562 cells with ADAP antibody at 10 µg/ml.
Other Product Images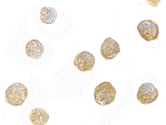 Source :ADAP antibody was raised against a 17 amino acid peptide from near the amino terminus of human ADAP.
Purification : Affinity chromatography purified via peptide column
Clonality and Clone : This is a polyclonal antibody.
Host : ADAP antibody was raised in rabbit.
Please use anti-rabbit secondary antibodies.
Application : ADAP antibody can be used for detection of ADAP by Western blot at 0.5 – 1 µg/ml.
Tested Application(s) : E, WB, ICC
Buffer : Antibody is supplied in PBS containing 0.02% sodium azide.
Blocking Peptide :Cat.No. 4279P - ADAP Peptide
Long-Term Storage : ADAP can be stored at 4ºC, stable for one year. As with all antibodies care should be taken to avoid repeated freeze thaw cycles. Antibodies should not be exposed to prolonged high temperatures.
Positive Control :
1. Cat. No. 1204 - K562 Cell Lysate
Species Reactivity : H
GI Number : 42476118
Accession Number : NP_001456
Short Description : (NT) Adhesion and degranulation adapter protein
References
1. Griffiths EK, Krawczyk C, Kong YY, et al. Positive regulation of T cell activation and integrin adhesion by the adapter Fyb/Slap. Science 2001; 293:2260-3.
2. Rawlings DJ, Sommer K, and Moreno-Garcia ME. The CARMA1 signalosome links the signalling machinery of adaptive and innate immunity in lymphocytes. Nat. Rev. Immunol. 2006; 6:799-812.
3. Medeiros RB, Burbach BJ, Mueller KL, et al. Regulation of NF-kappaB activation in T cells via association of the adapter proteins ADAP and CARMA1. Science 2007; 316:754-8.
4. Mueller KL, Thomas MS, Burbach BJ, et al. Adhesion and degranulation-promoting adapter protein (ADAP) positively regulates T cell sensitivity to antigen and T cell survival. J. Immunol. 2007; 179:3559-69.