TEM4 Antibody
Catalog# :4367
Rho GTPases, which are activated by specific guanine-nucleotide exchange factors (GEFs), play pivotal roles in several cellular functions. TEM4, encoding a protein containing 1510 amino acids, contains a RhoGEF-specific Dbl homology (DH) domain but lacks their typical pleckstrin homology domain. TEM4 is a Rho-specific GEF with novel structural and regulatory properties and predominant expression in the heart. It couples tyrosine kinase signals with the activation of the rho/rac GTPases, thus leading to cell differentiation and/or proliferation. Elevated levels of TEM4, TEM5, TEM6, TEM7 and TEM7R were also raised in breast cancer tissues. TEM4 could also prove to be useful targets therapeutically.
Additional Names : TEM4 (IN), Tumor endothelial marker 4, ARHGEF17, Rho guanine nucleotide exchange factor 17, p164RHOGEF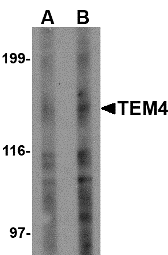 Description
Left:Western blot analysis of TEM4 in Jurkat Cell lysate with TEM4

antibody

at (A) 1 and (B) 2 µg/ml.
BelowImmunohistochemistry of TEM4 in human spleen tissue with TEM4 antibody at 2.5 µg/ml.
Other Product Images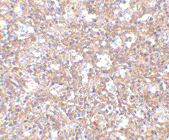 Source :TEM4 antibody was raised against a 18

amino acid peptide

near the center of human TEM4.
Purification : Affinity chromatography purified via peptide column
Clonality and Clone : This is a polyclonal

antibody

.
Host : TEM4 antibody was raised in rabbit.
Please use anti-rabbit secondary antibodies
Application : TEM4 antibody can be used for detection of TEM4 by Western blot at 1 – 2 µg/ml.
Tested Application(s) : E, WB, IHC
Buffer : Antibody is supplied in PBS containing 0.02% sodium azide.
Blocking Peptide :Cat.No. 4367P - TEM4

Peptide
Long-Term Storage : TEM4

antibody

can be stored at 4ºC, stable for one year. As with all antibodies care should be taken to avoid repeated freeze thaw cycles. Antibodies should not be exposed to prolonged high temperatures.
Positive Control :
1. Cat. No. 1205 - Jurkat Cell Lysate
Species Reactivity : H
GI Number : 74724250
Accession Number : Q96PE2
Short Description : (IN) Tumor endothelial marker 4
References
1. Ruemenapp U, Freichel-Blomquist A, Wittinghofer B, et al. A mammalian Rho-specific guanine-nucleotide exchange factor (p164-RhoGEF) without a pleckstrin homology domain. Biochem. J. 2002; 366:721-8.
2. Carson-Walter EB, Watkins DN, Nanda A, et al. Cell surface tumor endothelial markers are conserved in mice and humans. Cancer Res. 2001; 61:6649-55.
3. Davies G, Cunnick GH, Mansel RE, et al. Levels of expression of endothelial markers specific to tumour-associated endothelial cells and their correlation with prognosis in patients with breast cancer. Clinical & Experimental Metastasis 2004; 21:31-7.
4. Nanda A and St Croix B. Tumor endothelial markers: new targets for cancer therapy. Curr. Opin. Oncol. 2004; 16:44-9.