TEM7 Antibody
Catalog# :4341
Tumor endothelial marker 7 (TEM7) was identified through serial analysis of gene expression on endothelial cells isolated from human normal and malignant colorectal tissues. Further experiments verified TEM7 was highly expressed in the endothelium of numerous other cancer types including breast, lung and brain tumors. At least four isoforms of TEM7 are known to exist; these include intracellular, secreted, and membrane-bound forms. A homologous protein, TEM7R (also known as PLXDC2), acts as a binding partner to TEM7 and is also abundantly expressed in the endothelium of malignant colorectal cancer but is absent or rare in normal colon mucosa. High expression of TEM7 is associated with metastasis and poor survival of patients with osteogenic sarcoma.
Additional Names : TEM7 (IN), Tumor endothelial marker 7, TEM3, plexin domain-containing protein 1, PLXDC1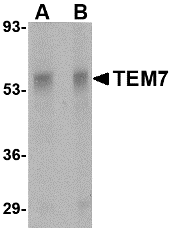 Description
Left: Western blot analysis of TEM7 in rat liver tissue lysate with TEM7 antibody at (A) 0.5 and (B) 1 µg/ml.
Below Immunohistochemistry of TEM7 in mouse liver tissue with TEM7 antibody at 2.5 µg/ml.
Other Product Images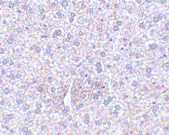 Source :TEM7

antibody

was raised against a 16

amino acid peptide

from near the center of human TEM7.
Purification : Affinity chromatography purified via peptide column
Clonality and Clone : This is a polyclonal antibody.
Host : TEM7 antibody was raised in rabbit.
Please use anti-rabbit secondary antibodies.
Application : TEM7

antibody

can be used for detection of TEM7 by Western blot at 0.5 – 1 µg/ml.
Tested Application(s) : E, WB, IHC
Buffer : Antibody is supplied in PBS containing 0.02% sodium azide.
Blocking Peptide :Cat.No. 4341P - TEM7

Peptide
Long-Term Storage : TEM7 antibody can be stored at 4ºC, stable for one year. As with all antibodies care should be taken to avoid repeated freeze thaw cycles. Antibodies should not be exposed to prolonged high temperatures.
Positive Control :
1. Cat. No. 1464 - Rat Liver Tissue Lysate
Species Reactivity : H, M, R
GI Number : 14017379
Accession Number : AAG00869
Short Description : (IN) Tumor epithelial marker 7
References
1. St. Croix B, Rago C, Velculescu V, et al. Genes expressed in human tumor endothelium. Science 2000; 289:1197-202.
2. Nanda A, Buckhaults P, Seaman S, et al. Identification of a binding partner for the endothelial cell surface proteins TEM7 and TEM7R. Cancer Res. 2004; 64:8507-11.
3. Carson-Weber EB, Watkins DN, Nanda A, et al. Cell surface tumor epithelial markers are conserved in mice and humans. Cancer Res. 2001; 61:6649-55.
4. Fuchs B, Mahlum E, Halder C, et al. High expression of tumor endothelial marker 7 is associated with metastasis and poor survival of patients with osteogenic sarcoma. Gene 2007; 399:137-43.