Blimp-1 Antibody
Catalog# :3991
Blimp-1 was initially identified as a zinc finger-containing protein that drives the maturation of B lymphocytes into immunoglobulin-secreting cells (1). Together with X-box-binding protein 1 (XBP1), Blimp-1 is induced upon terminal differentiation of plasma cells (2,3). The transcriptional repressor activity of Blimp-1 has also been found to regulate T cell homeostasis and function, possibly by suppressing the expression of the cytokines IL-2 and interferon-gamma during T cell development (4). More recent experiments have suggested that Blimp-1 also plays a major role in the formation of primordial germ cells (PGC) in developing mammalian embryos. In these experiments, Blimp-1-deficient mutant mouse embryos form a cluster of PGC-like cells which fail to show the expected migration, proliferation, and repression of homeobox genes that normally accompany specification of primordial germ cells (5). Blimp-1 exists as at least two different isoforms.
Additional Names : Blimp-1 (NT), B-lymphocyte-induced maturation protein 1, PR domain-containing protein 1, PRDI-binding factor 1, PRDI-BF1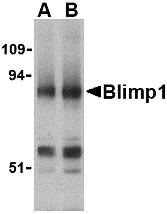 Description
Left: Western blot analysis of Blimp-1 in mouse lung tissue lysate with Blimp-1 antibody

at (A) 0.5 and (B) 1µg/ml.
Below:Immunohistochemistry of Blimp-1 in mouse lung tissue with Blimp-1 antibody at 5 µg/ml.
Other Product Images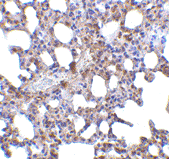 Source :Blimp-1 antibody was raised against a 17

amino acid peptide

from near the amino terminus of human Blimp-1.
Purification : Affinity chromatography purified via peptide column
Clonality and Clone : This is a polyclonal antibody.
Host : Blimp-1 antibody was raised in rabbit.
Please use anti-rabbit secondary antibodies.
Application : Blimp-1

antibody

can be used for detection of Blimp-1 by Western blot at 0.5 – 1 µg/ml.
Tested Application(s) : E, WB, IHC
Buffer : Antibody is supplied in PBS containing 0.02% sodium azide.
Blocking Peptide :Cat.No. 3991P - Blimp-1 Peptide
Long-Term Storage : Blimp-1 antibody can be stored at 4ºC, stable for one year. As with all antibodies care should be taken to avoid repeated freeze thaw cycles. Antibodies should not be exposed to prolonged high temperatures.
Positive Control :
1. Cat. No. 1402 - Mouse Lung Tissue Lysate
Species Reactivity : H, M, R
GI Number : 172072684
Accession Number : NP_001189
Short Description : (NT) B-lymphocyte-induced maturation protein 1
References
1. Angelin-Duclos C, Cattoretti G, Lin K-I, et al. Commitment of B lymphocytes to a plasma cell fate is associated with Blimp-1 expression. J. Immunol. 2000; 165:5462-71.
2. Reimold AM, Iwakoshi NN, Manis J, et al. Plasma cell differentiation requires the transcription factor XBP-1. Nature 2001; 412:300-7.
3. Martins GA, Cimmino L, Shapiro-Shelef M, et al. Transcriptional repressor Blimp-1 regulates T cell homeostasis and function. Nature Immunol. 2006; 7:457-65.