TEM5 Antibody
Catalog# :4371
Tumor endothelial markers (TEMs) are significantly up-regulated during angiogenesis and neoangiogensis that are crucial for the growth of solid tumors. TEMs localized on the cell surface and conserved across species are of particular interest for future development of anti-angiogenic therapies. These include TEMs such as TEM1, TEM5, TEM7 and TEM8. TEM5 is a member of the adhesion family of G protein coupled receptors and is localized on the surface of endothelial cells. TEM5 is a seven-pass transmembrane receptor, unlike TEM1, TEM7 and TEM8 which span the membrane once. TEM5 is abundantly expressed in tumor vessels, heart, placenta, ovary, small intestine, and colon. Proteolytically processed soluble TEM5 mediates endothelial cell survival during angiogenesis by linking integrin to glycosaminoglycans.
Additional Names : TEM5 (IN), Tumor endothelial marker 5, G protein-coupled receptor 124, GPR124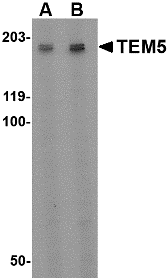 Description
Left: Western blot analysis of TEM5 in rat kidney tissue lysate with TEM5

antibody

at (A) 2 µg/ml and (B) 4 µg/ml.
BelowImmunohistochemistry of TEM5 in human bladder tissue with TEM5 antibody at 5 μg/ml.at 5 µg/ml.
Other Product Images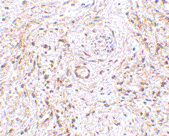 Source :TEM5

antibody

was raised against a 14

amino acid peptide

near the center of human TEM5.
Purification : Affinity chromatography purified via peptide column
Clonality and Clone : This is a polyclonal antibody.
Host : TEM5

antibody

was raised in rabbit.
Please use anti-rabbit secondary antibodies.
Application : TEM5 antibody can be used for detection of TEM5 by Western blot at 1 – 2 µg/ml.
Tested Application(s) : E, WB, IHC
Buffer : Antibody is supplied in PBS containing 0.02% sodium azide.
Blocking Peptide :Cat.No. 4371P - TEM5

Peptide
Long-Term Storage : TEM5 antibody can be stored at 4ºC, stable for one year. As with all antibodies care should be taken to avoid repeated freeze thaw cycles. Antibodies should not be exposed to prolonged high temperatures.
Positive Control :
1. Cat. No. 1465 - Rat Kidney Tissue Lysate
Species Reactivity : H R
GI Number : 221222450
Accession Number : Q96PE1
Short Description : (IN) Tumor endothelial marker 5
References
1. Carson-Walter EB, Watkins DN, Nanda A, et al. Cell surface tumor endothelial markers are conserved in mice and humans. Cancer Res. 2001; 61:6649-55.
2. Yamamoto Y, Irie K, Nanda A, et al. Direct binding of the human homologue of the Drosophila disc large tumor suppressor gene to seven-pass transmembrane proteins, tumor endothelial marker 5 (TEM5), and a novel TEM5-like protein. Oncogene 2004; 23:3889-97.
3. Davies G, Cunnick GH, Mansel RE, et al. Levels of expression of endothelial markers specific to tumour-associated endothelial cells and their correlation with prognosis in patients with breast cancer. Clinical & Experimental Metastasis 2004; 21:31-7.
4. Vallon M and Essler M. Proteolytically processed soluble tumor endothelial marker (TEM) 5 mediates endothelial cell survival during angiogenesis by linking integrin alpha(v)beta3 to glycosaminoglycans. J. Biol. Chem. 2006; 281:34179-88.