TNPO3 Antibody
Catalog# :4597
TNPO3 is a member of the importin beta/transportin family of nuclear import receptors and is specific for the essential splicing factors termed SR proteins, binding specifically and directly to the arginine/serine (RS)-rich domains of these proteins. Further experiments demonstrated that this interaction occurs only when these RS domains are phosphorylated. More recently, TNPO3 was identified as an HIV dependency factor (HDF) and that depletion of TNPO3 resulted in HIV inhibition after reverse transcription but before integration, suggesting that TNPO3 may be an important drug target in HIV treatment. At least three isoforms of TNPO3 are known to exist.
Additional Names : TNPO3 (NT), Transportin-3, Importin-12, IPO12, TRNSR, MTR10A, TRN-SR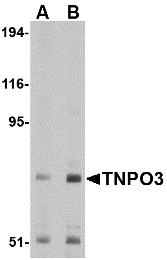 Description
Left: Western blot analysis of TNPO3 in Raji cell lysate with TNPO3 antibody at (A) 1 and (B) 2 µg/ml.
Source :TNPO3 antibody was raised against a 18

amino acid peptide

from near the amino terminus of human TNPO3.
Purification : Affinity chromatography purified via

peptide

column
Clonality and Clone : This is a polyclonal

antibody

.
Host : TNPO3 antibody was raised in rabbit.
Please use anti-rabbit secondary antibodies.
Application : TNPO3 antibody can be used for detection of TNPO3 by Western blot at 1 – 2 µg/ml.
Tested Application(s) : E, WB
Buffer : Antibody is supplied in PBS containing 0.02% sodium azide.
Blocking Peptide :Cat.No. 4597P - TNPO3

Peptide
Long-Term Storage : TNPO3 antibody can be stored at 4ºC, stable for one year. As with all antibodies care should be taken to avoid repeated freeze thaw cycles. Antibodies should not be exposed to prolonged high temperatures.
Positive Control :
1. Cat. No. 1207 - Raji Cell Lysate
Species Reactivity : H, M, R
GI Number : 119604114
Accession Number : EAW83708
Short Description : (NT) Transportin-3
References
1. Kataoka N, Bachorik JL and Dreyfuss G. Transportin-SR, a nuclear import receptor for SR proteins. J. Cell Biol. 1999; 145:1145-52.
2. Lai M-C, Lin R-I, Huang S-Y, et al. A human importin-b family protein, transportin-SR2, interacts with the phosphorylated RS domain of SR proteins. J. Biol. Chem. 2000; 275:7950-7.
3. Brass AL, Dykxhoorn DM, Benita Y, et al. Identification of host proteins required for HIV infection through a functional genomic screen. Science 2008; 319:921-6.