IFN-beta Antibody
Catalog# :4243
Type I Interferons (IFN-a/b) are produced primarily in response to viral infection by "Natural IFN-producing cells" (IPCs) as part of the host immune response and can also inhibit the development of tumors. IFN-b binding by its receptor results in the activation of the tyrosine kinases Jak1 and Tyk2 and phosphorylation of members of the STAT family of transcription factors, leading to the transcription and expression of the immune response genes. More recently, several members of the toll-like receptor (TLR) family were found to stimulate the production IFN-b. IFN-b is currently used clinically for treatment of tumors, infections and multiple sclerosis.
Additional Names : IFN-beta (IN), Interferon beta, beta-interferon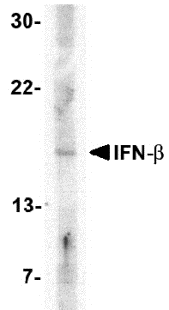 Description
Left: Western blot analysis of IFN-b in A-20 cell lysate with IFN-b antibody at 5 µg/ml.
Below:Immunohistochemistry of IFN-b in human liver tissue with IFN-b antibody at 5 µg/ml.
Other Product Images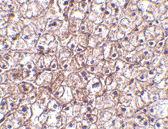 Source :IFN-beta antibody was raised against a 17 amino acid peptide from near the center of human IFN-b.
Purification : Affinity chromatography purified via peptide column
Clonality and Clone : This is a polyclonal antibody.
Host : IFN-beta antibody was raised in rabbit.
Please use anti-rabbit secondary antibodies.
Application : IFN-b antibody can be used for detection of IFN-b by Western blot at ~5 µg/ml.
Tested Application(s) : E, WB, IHC
Buffer : Antibody is supplied in PBS containing 0.02% sodium azide.
Blocking Peptide :Cat.No. 4243P - IFN-beta Peptide
Long-Term Storage : IFN-beta antibody can be stored at 4ºC, stable for one year. As with all antibodies care should be taken to avoid repeated freeze thaw cycles. Antibodies should not be exposed to prolonged high temperatures.
Positive Control :
1. Cat. No. 1288 - A20 Cell Lysate
2. Cat. No. 1304 - Human Liver Tissue Lysate
Species Reactivity : H, M
GI Number : 184623
Accession Number : AAC41702
Short Description : (IN) beta-interferon
References
1. Gresser I. Wherefore interferon? J. Leuk. Biol. 1997; 61:567-74.
2. Colonna M. TLR pathways and IFN-regulatory factors: to each its own. Eur. J. Immunol. 2007; 37:306-9.
3. Kock M, Mostert J, De Keyser J, et al. Interferon-beta treatment and the natural history of relapsing-remitting multiple sclerosis. Ann. Neurol. 2007; epub.