Transthyretin Antibody
Catalog# :5157
Transthyretin is a tetrameric carrier protein that transports thyroid hormones in the plasma and cerebrospinal fluid, and retinol (vitamin A) in the plasma. More than 80 different mutations in this gene have been reported; most mutations are related to amyloid deposition, affecting predominantly peripheral nerve and/or the heart. The diseases caused by mutations include familial amyloidotic polyneuropathy, euthyroid hyperthyroxinemia, amyloidotic vitreous opacities, cardiomyopathy, oculoleptomeningeal amyloidosis, meningocerebrovascular amyloidosis, and carpal tunnel syndrome. It has also been suggested that Transthyretin plays an important role in the maintenance of normal cognitive processes during aging, neuro peptide processing and nerve regeneration. It has also been linked to several pathological conditions including Parkinson's disease, schizophrenia, and depression.
Additional Names : Transthyretin,TTR, PALB, TBPA, HsT2651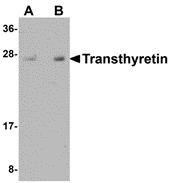 Description
Left:Western blot analysis of Transthyretin in human lung tissue lysate with Transthyretin antibody at (A) 1 and (B) 2 µg/ml.
Other Product Images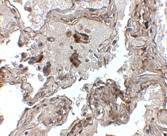 Source :Transthyretin antibody was raised against a 17

amino acid

peptide near the center of human Transthyretin .
Purification : Affinity chromatography purified via peptide column
Clonality and Clone : This is a polyclonal antibody.
Host : Transthyretin antibody was raised in chicken.
Please use anti-rabbit secondary antibodies.
Application : Transthyretin antibody can be used for detection of Transthyretin by Western blot at 1 – 2 µg/ml.
Tested Application(s) : E, WB
Buffer : Antibody is supplied in PBS containing 0.02% sodium azide.
Blocking Peptide :Cat.No. 5157P - Transthyretin Peptide
Long-Term Storage : Transthyretin antibody can be stored at 4ºC, stable for one year. As with all antibodies care should be taken to avoid repeated freeze thaw cycles. Antibodies should not be exposed to prolonged high temperatures.
Positive Control :
1. Cat. No. 1302 - Human Lung Tissue Lysate
Species Reactivity : H, M, R
GI Number : 136464
Accession Number : P02766
Short Description : a tetrameric carrier protein
References
1. Fleming CE, Nunes AF, and Sousa MM. Transthyretin: more than meets the eye. Prog. Neurobiol. 2009; epub.
2. Fleming CE, Saraiva MJ, and Sousa MM. Transthyretin enhances nerve regeneration. J. Neurochem. 2007; 103:831-9.
3. Rite I, Arguelles S, Venero JL, et al. Proteomic identification of biomarkers in the cerebrospinal fluid in a rat model of nigrostriatal dopaminergic degeneration. J. Neurosci. Res. 2007; 85:3607-18.