Unc93a Antibody
Catalog# :4551
Unc93a, a human homolog of the C. elegans Unc93 gene, was initially identified by the sequencing of chromosome 6q27 at D6S193 as loss at this region correlated with sporadic ovarian cancer. Further analysis however, showed no tumor suppressor role for Unc93a. Unlike Unc93b, another homolog of the C. elegans Unc93 gene that is crucial for Toll-like receptor (TLR) signaling, the function of Unc93a is unknown. It is expressed in testis, small intestine, spleen, prostate and ovary. Two isoforms of Unc93a are known to exist. This antibody will not cross-react with Unc93b.
Additional Names : Unc93a, Unc93a, homolog of C. elegans Unc93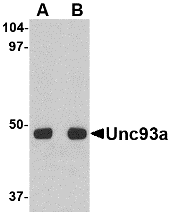 Description
Left:Western blot analysis of Unc93a in HeLa cell lysate with Unc93a antibody at (A) 0.5 and (B) 1 µg/ml.
Source :Unc93a antibody was raised against a 18 amino acid peptide from near the carboxy terminus of human Unc93a.
Purification : Affinity chromatography purified via peptide column
Clonality and Clone : This is a polyclonal antibody.
Host : Unc93a antibody was raised in rabbit.
Please use anti-rabbit secondary antibodies.
Application : Unc93a antibody can be used for the detection of Unc93a by Western blot at 0.5 – 1 µg/ml.
Tested Application(s) : E, WB
Buffer : Antibody is supplied in PBS containing 0.02% sodium azide.
Blocking Peptide :Cat.No. 4551P - Unc93a Peptide
Long-Term Storage : Unc93a antibody can be stored at 4ºC, stable for one year. As with all antibodies care should be taken to avoid repeated freeze thaw cycles. Antibodies should not be exposed to prolonged high temperatures.
Positive Control :
1. Cat. No. 1201 - HeLa Cell Lysate
Species Reactivity : H
GI Number : 71043465
Accession Number : AAH99718
Short Description : homolog of C. elegans UNC93
References
1. Liu Y, Dodds P, Emilion G, et al. The human homolog of unc-93 maps to chromosome 6q27 – characterisation and analysis in sporadic epithelial ovarian cancer. BioMed Central Genetics 2002; 3:20.
2. Massey DC and Parkes M. Genome-wide association scanning highlights two autophagy genes, ATG16L1 and IRGM, as being significantly associated with Crohn's disease. Autophagy 2007; 3:649-51.