ZBED2 Antibody
Catalog# :5121
The ZBED2 protein possesses a BED-type zinc finger, a 50 to 60 amino acid domain that contains a characteristic motif with two highly conserved aromatic positions, as well as a shared pattern of cysteines and histidines that is predicted to form the zinc finger. ZBED2 was identified through a screening of 37 human gastric cancer cDNA libraries. While the function of this protein unknown at this time, the presence of the zinc finger suggests that it may have DNA or RNA binding properties. This antibody is predicted to have no cross-reactivity to ZBED1 or ZBED3.
Additional Names : ZBED2, Zinc finger BED-type domain containing 2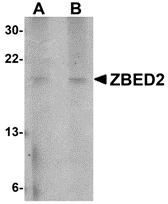 Description
Left: Western blot analysis of ZBED2 in A549 cell lysate with ZBED2 antibody at (A) 1 and (B) 2 µg/ml.
Other Product Images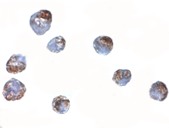 Source :ZBED2 antibody was raised against a 15 amino acid peptide from near the amino terminus of human ZBED2.
Purification : Affinity chromatography purified via peptide column
Clonality and Clone : This is a polyclonal antibody.
Host : ZBED2 antibody was raised in rabbit.
Please use anti-rabbit secondary antibodies.
Application : ZBED2 antibody can be used for detection of ZBED2 by Western blot at 1 - 2 µg/ml.
Tested Application(s) : E, WB
Buffer : Antibody is supplied in PBS containing 0.02% sodium azide.
Blocking Peptide :Cat.No. 5121P - ZBED2 Peptide
Long-Term Storage : ZBED2 antibody can be stored at 4ºC, stable for one year. As with all antibodies care should be taken to avoid repeated freeze thaw cycles. Antibodies should not be exposed to prolonged high temperatures.
Positive Control :
1. Cat. No. 1203 - A549 Cell Lysate
Species Reactivity : H
GI Number : 56790947
Accession Number : NP_078784
Short Description : Zinc finger BED-type domain containing 2
References
1. Oh J-H, Yang JO, Hahn Y, et al. Transcriptome analysis of human gastric cancer. Mamm. Genome 2005; 16:942-54.