ZBED1 Antibody
Catalog# :5111
ZBED1, also known as DREF, is the human homolog of the Drosophila protein DREF, a transcriptional regulatory factor required for expression of genes involved in DNA replication and cell proliferation. RNA interference (RNAi) experiments targeting ZBED1 RNA resulted in the inhibition of S phase entry and reduction of histone H1 mRNA in HeLa cells, suggesting that ZBED1 also plays a role in cell proliferation in human cells. At least 22 ribosomal proteins (RPs) possess ZBED1 binding sites in their promoters; anti-ZBED1 RNAi also resulted in decreased RP gene expression. Immunoprecipitation analyses have shown that ZBED1 self-associates in vivo via a carboxyl-terminal hATC domain, and this self-association is required for nuclear localization and DNA binding. This antibody is predicted to have no cross-reactivity to ZBED2 or ZBED3.
Additional Names : ZBED1, Zinc finger BED-type domain containing 1, ALTE, TRAMP, DREF, hDREF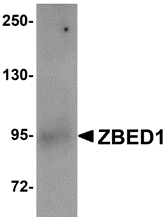 Description
Left: Western blot analysis of ZBED1 in A549 cell lysate with ZBED1 antibody at 1 µg/ml.
Source :ZBED1 antibody was raised against a 15 amino acid peptide from near the center of human ZBED1.
Purification : Affinity chromatography purified via peptide column
Clonality and Clone : This is a polyclonal antibody.
Host : ZBED1 antibody was raised in rabbit.
Please use anti-rabbit secondary antibodies
Application : ZBED1 antibody can be used for detection of ZBED1 by Western blot at 1 - 2 µg/ml.
Tested Application(s) : E, WB
Buffer : Antibody is supplied in PBS containing 0.02% sodium azide.
Blocking Peptide :Cat.No. 5111P - ZBED1 Peptide
Long-Term Storage : ZBED1 antibody can be stored at 4ºC, stable for one year. As with all antibodies care should be taken to avoid repeated freeze thaw cycles. Antibodies should not be exposed to prolonged high temperatures.
Positive Control :
1. Cat. No. 1203 - A549 Cell Lysate
Species Reactivity : H, M
GI Number : 15929151
Accession Number : AAH15030
Short Description : Zinc finger BED-type domain containing 1
References
1. Ohshima N, Takahashi M, and Hirose F. Identification of a human homolog of the DREF transcription factor with a potential role in regulation of the histone H1 gene. J. Biol. Chem. 2003; 278:22928-38.
2. Yamashita D, Sano Y, Adachi Y, et al. hDREF regulates cell proliferation and expression of ribosomal protein genes. Mol. Cell. Biol. 2007; 27:2003-13.
3. Yamashita D, Komori H, Higuchi Y, et al. Human DNA replication-related element binding factor (hDREF) self-association via hATC domain is necessary for its nuclear accumulation and DNA binding. J. Biol. Chem. 2007; 282:7563-75.