IL-16 Antibody
Catalog# :4995
IL-16 was initially identified as a chemotactic cytokine, but is now known to possess a wide range of activities. Later studies have more fully characterized IL-16 as an immunomodulatory cytokine that contributes to the regulatory process of CD4+ T cell recruitment and activation at sites of inflammation in association with asthma and several autoimmune diseases. The precursor of IL-16 (pro-IL-16) is thought to be cleaved towards the C-terminal region by Caspase-3, releasing a 20 kDa active form that binds to and signals through CD4. Besides acting as a chemotactic cytokine, IL-16 is thought to also be involved in the regulation of T cell proliferation and multiple infectious, immune-mediated, and autoimmune inflammatory disorders including irritable bowel syndrome, systemic lupus erythematosus, and neurodegenerative disorders. At least two isoforms of IL-16 are known to exist; the longer isoform (also known as NIL-16) is detected only in neurons of the cerebellum and hippocampus. This antibody will only detect the NIL-16 isoform.
Additional Names : IL-16 (NT2), Interleukin 16, leukocyte chemoattractant factor, LCF, NIL-16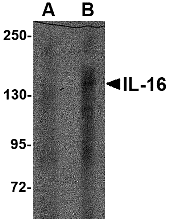 Description
Left: Western blot analysis of IL-16 in rat brain tissue lysate with IL-16 antibody at (A) 1 µg/ml and (B) 2 µg/ml.
Source :IL-16 antibody was raised against a 14 amino acid peptide near the amino terminus of human IL-16.
Purification : Affinity chromatography purified via peptide column
Clonality and Clone : This is a polyclonal antibody.
Host : IL-16 antibody was raised in rabbit.
Please use anti-rabbit secondary antibodies
Application : IL-16 antibody can be used for detection of IL-16 by Western blot at 1 – 2 µg/ml.
Tested Application(s) : E, WB
Buffer : Antibody is supplied in PBS containing 0.02% sodium azide.
Blocking Peptide :Cat.No. 4995P - IL-16 Peptide
Long-Term Storage : IL-16 antibody can be stored at 4ºC, stable for one year. As with all antibodies care should be taken to avoid repeated freeze thaw cycles. Antibodies should not be exposed to prolonged high temperatures.
Positive Control :
1. Cat. No. 1463 - Rat Brain Tissue Lysate
Species Reactivity : H, M, R
GI Number : 36953836
Accession Number : AAQ86961
Short Description : (NT2) Neuronal interleukin-16
References
1. Cruikshank WW, Center DM, Nisar N, et al. Molecular and functional analysis of a lymphocyte chemoattractant factor: association of biologic function with CD expression. Proc. Natl. Acad. Sci. USA 1994; 91:5109-13.
2. Interleukin-16. Cruikshank WW, Kornfeld H, and Center DM. J. Leukoc. Biol. 2000; 67:757-66.
3. Zhang Y, Center DM, Wu DM, et al. Processing and activation of pro-interleukin-16 by caspase-3. J. Biol. Chem. 1998; 273:1144-9.
4. Maciaszek JW, Parada NA, Cruikshank WW, et al. IL-16 represses HIV-1 promoter activity. J. Immunol. 1997; 158:5-8.