Stella Antibody
Catalog# :4755
Stella was initially identified in primordial germ cells and pre-implantation embryos whose expression as a maternal factor is important in early embryonic development but is not required for germ cell specification in mice. In humans, Stella is thought to be a marker for pluripotency in embryonic stem (ES) cells as its expression is observed in primordial germ cells of both sexes and germ cell tumors but not in normal somatic tissues. However, in ES cell colonies, heterogeneous expression of Stella was seen in high throughput in situ hybridization assays, indicating that higher levels of complexity exist in otherwise thought to be undifferentiated ES cells. At least two distinct isoforms of Stella are known to exist.
Additional Names : Stella, Development pluripotency-associated 3, DPPA3, primordial germ cell 7, PGC7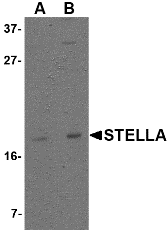 Description
Left: Western blot analysis of Stella in 293 cell lysate with Stella antibody at (A) 1 and (B) 2 µg/ml.
Source :Stella antibody was raised against a 13

amino acid peptide

from near the carboxy terminus of human Stella.
Purification : Affinity chromatography purified via peptide column
Clonality and Clone : This is a polyclonal

antibody

.
Host : Stella antibody was raised in rabbit. Please use anti-rabbit secondary antibodies.
Application : Stella antibody can be used for detection of Stella by Western blot at 1 – 2 µg/ml.
Tested Application(s) : E, WB
Buffer : Antibody is supplied in PBS containing 0.02% sodium azide.
Blocking Peptide :Cat.No. 4755P - Stella

Peptide
Long-Term Storage : Stella antibody can be stored at 4ºC, stable for one year. As with all antibodies care should be taken to avoid repeated freeze thaw cycles. Antibodies should not be exposed to prolonged high temperatures.
Positive Control :
1. Cat. No. 1210 - 293 Cell Lysate
Species Reactivity : H, M, R
GI Number : 40548326
Accession Number : NP_954980
Short Description : an embryonic stem cell protein
References
1. Sato M, Kimura T, Kurokawa K, et al. Identification of PGC7, a new gene expressed specifically in preimplatation embryos and germ cells. Mech. Dev. 2002; 113:91-4.
2. Bortvin A, Goodheart M, Liao M, et al. Dppa3/Pgc7/stella is a maternal factor and is not required for germ cell specification in mice. BMC Dev. Biol. 2004; 4:2.
3. Bowles J, Teasdale RP, James K, et al. Dppa3 is a marker of pluripotency and has a human homologue that is expressed in germ cell tumours. Cytogenet. Genome Res. 2003; 101:261-5.
4. Carter MG, Stagg CA, Falco G, et al. An in situ hybridization-based screen for heterogeneously expressed genes in mouse ES cells. Gene Expr. Patterns 2008; 8:181-8.