TMEM214 Antibody
Catalog# :5299
Transmembrane protein 214 (TMEM214) is a 77kD membrane protein which is widely expressed at high level. The gene encoding this protein maps to chromosome 2, at 2p23.3 TMEM214 interacts with LSM1, an SM-like protein, forming a stable heteromer present in tri-snRNP particles, which are important for pre-mRNA splicing. The detailed function of TMEM214 is still unknown, but a recent study showed that TMEM214 may be used to explore the contribution of human host factors of some infectious diseases such as Dengue fever, West Nile fever and yellow fever. Multiple isoforms of TMEM214 are known to exist.
Additional Names : TMEM214 (IN), Transmembrane protein 214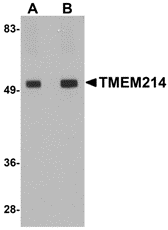 Description
Left:Western blot analysis of TMEM214 in rat brain tissue lysate with TMEM214

antibody

at (A) 1 and (B) 2 µg/ml.
Source :TMEM214 antibody was raised against a 17

amino acid peptide

near the center of human TMEM214.
Purification : Affinity chromatography purified via peptide column
Clonality and Clone : This is a polyclonal

antibody

.
Host : TMEM214 antibody was raised in rabbit.
Please use anti-rabbit secondary antibodies.
Application : TMEM214 antibody can be used for detection of TMEM214 by Western blot at 1 - 2 µg/ml.
Tested Application(s) : E, WB
Buffer :

Antibody

is supplied in PBS containing 0.02% sodium azide.
Blocking Peptide :Cat.No. 5299P - TMEM214

Peptide
Long-Term Storage : TMEM214 antibody can be stored at 4ºC, stable for one year. As with all antibodies care should be taken to avoid repeated freeze thaw cycles. Antibodies should not be exposed to prolonged high temperatures.
Positive Control :
1. Cat. No. 1463 - Rat Brain Tissue Lysate
Species Reactivity : H, M, R
GI Number : 134152721
Accession Number : NP_060197
Short Description : (IN) Transmembrane protein 214
References
1. Wan D, Gong Y, Qin W, et al. Large-scale cDNA transfection screening for genes related to cancer development and progression. Proc. Natl. Acad. Sci. U S A 2004;101:15724-9.
2. Lehner B and Sanderson CM. A protein interaction framework for human mRNA degradation. Genome Res. 2004; 14:1315-23.
3. Sessions OM, Barrows NJ, Souza-Neto JA, et al. Discovery of insect and human dengue virus host factors. Nature 2009; 458:1047-50.