Catalog
#:5221
AFAP1L2, also known as XB130, is structurally similar to actin-filament-associated protein (AFAP), containing several SH2- and SH3-binding motifs, two pleckstrin homology domains, a coiled-coil region, and many potential phosphorylation sites. It interacts with and is phosphorylated by c-Src tyrosine kinase. Suppression of AFAP1L2 via siRNA reduced Src activity, IL-8 production, EGF-induced phosphorylation of Akt and GSK3b, and altered cell cycles in human lung epithelial cells suggesting that AFAP1L2 plays a role as an adaptor in the regulation of Src signal transduction and multiple cellular functions. Recent experiments have shown that AFAP1L2 is highly expressed in thyroid and is the substrate RET/PTC kinase, a thyroid-specific kinase that plays a pathogenic role in papillary thyroid cancer. Down-regulation of AFAP1L2 in these cancer cells reduced Akt activity, inhibiting cell-cycle progression and cancer cell survival in suspension, indicating that AFAP1L2 may be a valuable target in thyroid cancer therapy. At least four isoforms of AFAP1L2 are known to exist.
Additional Names: AFAP1L2, Actin filament associated protein 1-like 2, XB130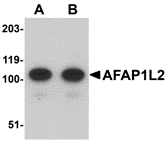 Description
Left:
Western blot analysis of AFAP1L2 in mouse liver tissue lysate with AFAP1L2 antibody at (A) 1 and (B) 2 µg/ml.


Below: Immunohistochemistry of AFAP1L2 in human liver tissue with AFAP1L2 antibody at 2.5 μg/ml.

Other Product Images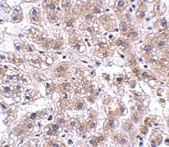 Source:

AFAP1L2 antibody was raised against a 15 amino acid peptide near the carboxy terminus of human AFAP1L2.


Purification:

Affinity chromatography purified via peptide column


Clonality and Clone:

This is a polyclonal antibody.


Host:

AFAP1L2 antibody was raised in rabbit.
Please use anti-rabbit secondary antibodies.


Application:

AFAP1L2 antibody can be used for detection of AFAP1L2 by Western blot at 1 - 2 µg/ml.


Tested Application(s):

E, WB, IHC


Buffer:

Antibody is supplied in PBS containing 0.02% sodium azide.


Blocking Peptide:

Cat.No. 5221P - AFAP1L2 Peptide


Long-Term Storage:

AFAP1L2 antibody can be stored at 4ºC, stable for one year. As with all antibodies care should be taken to avoid repeated freeze thaw cycles. Antibodies should not be exposed to prolonged high temperatures.


Positive Control:




1.Cat.

No. 1404 - Mouse Liver Tissue Lysate


Species Reactivity:

H, M, R


GI Number:

50897850


Accession Number:

NP_001001936


Short Description:

Actin filament associated protein 1-like 2 protein
References


1.

Xu J, Bai X-H, Lodyga M, et al. XB130, a novel adaptor protein for signal transduction. J. Biol. Chem. 2007; 282:16401-12.


2.

Lodyga M, De Falco V, Bai XH, et al. XB130, a tissue-specific adaptor protein that couples the RET/PTC oncogenic kinase to PI 3-kinase pathway. Oncogene 2009; 28:937-49.