Catalog#
:2335
Nuclear factor kappa B (NF-kappaB) is a ubiquitous transcription factor and an essential mediator of gene expression during activation of immune and inflammatory responses. NF-kappaB mediates the expression of a great variety of genes in response to extracellular stimuli. NF-kappaB is associated with IkB proteins in the cell cytoplasm, which inhibit NF-kappaB activity. The IkB kinase (IKKalpha and IKKbeta) phosphorylates IkB and mediates NF-kappaB activation. A novel molecule in the IKK complex was recently identified and termed IKKgamma/NEMO/FIP3/IKKAP1 (1-5). IKKg interacts with IKKbeta and is required for the activation of IKK complex and NF-kappaB by LPS, PMA, TNF, and IL-1 stimulation (1-4). FIP3 was also shown to bind to RIP and NIK and to mediate TNF-induced NF-kappaB activation (3).
Additional Names: IKK gamma (CT),IKKg / NEMO, NEMO, FIP3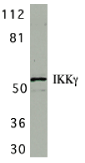 Description
Left:
Western blot analysis of IKK gamma in HeLa whole cell lysate with IKK gamma
antibody
at 1 µg/ml.
Below:
Immunocytochemistry of IKK gamma in HeLa cells with IKK gamma
antibody
at 5 µg/ml.
Other Product Images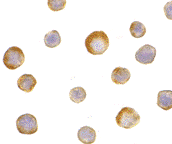 Source:
IKK gamma
antibody
was raised against a
peptide
corresponding to amino acids 400 to 416 of human IKK gamma, which are identical to those of mouse homologue.
Purification:
Affinity chromatography purified via
peptide
column
Clonality and Clone:
This is a polyclonal
antibody
.
Host:
IKK gamma antibody was raised in rabbit.
Please use anti-rabbit secondary antibodies.
Immunogen:
Human IKK gamma Peptide (Cat. No. 2335P)
Application:
IKK gamma
antibody
can be used for detection of IKK gamma by Western blot at 0.5 to 1 µg/ml.A 52 kDa band should be detected. IKK gamma has no cross response to IKK alpha or IKK beta.
Tested Application(s):
E, WB, ICC
Buffer:
Antibody
is supplied in PBS containing 0.02% sodium azide.
Blocking Peptide:
Cat. No. 2335P - IKK gamma
Peptide
Long-Term Storage:
IKK gamma antibody can be stored at 4ºC, stable for one year. As with all antibodies care should be taken to avoid repeated freeze thaw cycles. Antibodies should not be exposed to prolonged high temperatures.
Positive Control:
1.Cat.
No. 1201 - HeLa Cell Lysate
Species Reactivity:
H, M, R
GI Number:
3641279
Accession Number:
AF074382
Short Description:
(CT) IkB Kinase gamma
References
1.
Rothwarf DM, Zandi E, Natoli G, Karin M. IKK-gamma is an essential regulatory subunit of the IkappaB kinase complex. Nature 1998;395(6699):297-300
2.
Yamaoka S, Courtois G, Bessia C, Whiteside ST, Weil R, Agou F, Kirk HE, Kay RJ, Israel A. Complementation cloning of NEMO, a component of the IkappaB kinase complex essential for NF-kappaB activation. Cell. 1998;93(7):1231-40.
3.
Li Y, Kang J, Friedman J, Tarassishin L, Ye J, Kovalenko A, Wallach D, Horwitz MS. Identification of a cell protein (FIP-3) as a modulator of NF-kappaB activity and as a target of an adenovirus inhibitor of tumor necrosis factor alpha-induced apoptosis. Proc Natl Acad Sci U S A 1999;96(3):1042-7
4.
Mercurio F, Murray BW, Shevchenko A, Bennett BL, Young DB, Li JW, Pascual G, Motiwala A, Zhu H, Mann M, Manning AM. IkappaB kinase (IKK)-associated protein 1, a common component of the heterogeneous IKK complex. Mol Cell Biol. 1999;19(2):1526-38.