Catalog#
:5263
ADP-ribosylation factors (ARFs) are highly conserved guanine nucleotide binding proteins that enhance the ADP-ribosyltransferase activity of cholera toxin. ARFs are important in eukaryotic vesicular trafficking pathways and they play an essential role in the activation of phospholipase D (PC-PLD). ARL15 (ADP-ribosylation factor-like 15), is a member of the ARF family of the Ras superfamily of small GTPases that are known to be involved in multiple regulatory pathways altered in human carcinogenesis. Other members of this protein family include ARL11, thought to be a tumor suppressor and may play a role in the regulation of apoptosis, ARL2 which plays an important role in microtubule dynamics and cell cycle progression, and ARL4, which may play a role in neurogenesis during embryonic development. The gene encoding ARL15 maps to chromosome 5p15 in humans. At least three isoforms of ARL15 are known to exist.
Additional Names: ARL15, ADP-ribosylation factor-like 15, ADP-ribosylation factor-related protein 2, ARFRP2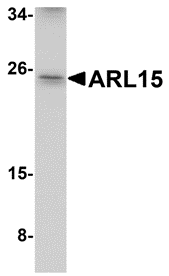 Description
Left:
Western blot analysis of ARL15 in K562 cell lysate with ARL15
antibody
at 1 µg/ml.
Below:
Immunohistochemistry of ARL15 in human spleen tissue with ARL15
antibody
at 5 μg/ml.






Other Product Images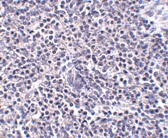 Source:
ARL15
antibody
was raised against a 17 amino acid
peptide
near the center of human ARL15.
Purification:
Affinity chromatography purified via
peptide
column
Clonality and Clone: Polyclonal
Host:
ARL15 antibody was raised in rabbit.
Please use anti-rabbit secondary antibodies.
Application:
ARL15
antibody
can be used for detection of Arl15 by Western blot at 1 - 2 µg/ml.
Tested Application(s):
E, WB, IHC
Buffer:
Antibody is supplied in PBS containing 0.02% sodium azide.
Blocking Peptide:
Cat.No. 5263P - ARL15
Peptide
Long-Term Storage:
ARL15
antibody
can be stored at 4ºC, stable for one year. As with all antibodies care should be taken to avoid repeated freeze thaw cycles. Antibodies should not be exposed to prolonged high temperatures.
Positive Control
:
1. Cat. No
. 1204 - K562 Cell Lysate
Species Reactivity:
H, M, R
GI Number:
9506653
Accession Number:
NP_061960
Short Description:
ADP-ribosylation factor-like 15
References
1.
Pasqualato S, Renault L, and Cherfils J. ARF, ARL, ARP and SAR proteins: a family of GTP-binding proteins with a structural device for 'front-back' communication. EMBO Rep. 2002; 3: 1035-41.
2.
Kahn RA, Volpicelli-Daley L, Bowzard B, et al. ARF family GTPases: roles in membrane traffic and microtubule dynamics. Biochem. Soc. Trans. 2005; 33: 1269-72.
3.
Kahn RA, Cherfils J, Elias M, et al. Nomenclature for the human Arf family of GTP binding proteins: ARF, ARL, and SAR proteins. J. Cell Biol. 2006; 172: 645-50.
4
. Calin GA, Trapasso F, Shimizu M, et al. Familial cancer associated with a polymorphism in ARLTS1. N. Engl. J. Med. 2005; 352:1667-76.