Catalog#
:3665
Bap31 and the related protein Bap29 are endoplasmic reticulum (ER) and ER-vesicle membrane proteins and members of the B-cell receptor-associated protein family (1,2). These two proteins are highly homologous and can form homo- and heterodimers. Bap31 is thought to be involved in the intracellular trafficking of several molecules such as MHC Class I molecules and CD11b/CD18 (3,4). It may also play a role in the initiation of ER stress-induced apoptosis through its association with caspase-8 via a death effector domain in its cytoplasmic tail, possibly through the promotion of membrane fragmentation and the release of cytochrome c from mitochondria (5). Bap31 itself contains two caspase cleavage sites and is cleaved during apoptosis. The p20 fragment of Bap31, when expressed ectopicially, is also a potent inducer cell death (5).
Description
Left:
Western blot analysis of BAP31 in Ramos cell lysate with BAP31
antibody
at (A) 0.5, (B) 1 and (C) 2µg/ml.
Below:
Immunohistochemistry of BAP31 in rat lung tissue with BAP31
antibody
at 2 µg/ml.
Other Product Images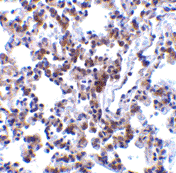 Source:
BAP31
antibody
was raised against a 17 amino acid
peptide
from near the carboxy terminus of human BAP31.
Purification:
Affinity chromatography purified via
peptide
column
Clonality and Clone:
This is a polyclonal
antibody
.
Host:
BAP31
antibody
was raised in rabbit.
Please use anti-rabbit secondary antibodies.
Immunogen:
Human BAP31 (C-Terminus)
Peptide
(Cat. No. 3665P)
Application:
BAP31
antibody
can be used for the detection of BAP31 by Western blot at 0.5 – 1 µg/ml.
Tested Application(s):
E, WB, IHC
Buffer:
Antibody is supplied in PBS containing 0.02% sodium azide.
Blocking Peptide:
Cat. No. 3665P - BAP31
Peptide
Long-Term Storage:
BAP31
antibody
can be stored at 4ºC, stable for one year. As with all antibodies care should be taken to avoid repeated freeze thaw cycles. Antibodies should not be exposed to prolonged high temperatures.
Positive Control
:
1
. Cat. No. 1225 - Ramos Cell Lysate
2.
Cat. No. 1462 - Rat Lung Tissue Lysate
Species Reactivity:
H, M, R
GI Number:
32171186
Accession Number:
NP_005736
Short Description:
A novel B-cell receptor-associated protein family member
References
1.
Ng F, Nguyen M, Kwan T, et al. p28 BAP31, a Bcl-2/Bcl-XL- and procaspase-8-associated proteinin the endoplasmic reticulum. J. Cell Biol. 1997; 139:327-38.
2.
Kim KM, Adachi T, Nielsen PJ, et al. Two new proteins preferentially associated with membrane immunoglobulin D. EMBO J. 1994; 13:3793-800.
3.
Paquet M-E, Cohen-Doyle M, Shore GC, et al. Bap29/31 influences the intracellular traffic of MHC class I molecules. J. Immunol. 2004; 172:7548-55.
4.
Zen K, Utech M, Liu Y, et al. Association of BAP31 with CD11b/CD18. Potential role in intracellular trafficking of CD11b/CD18 in neutrophils. J. Biol. Chem. 2004; 279:44924-30.