Catalog#
:4433
Fibroblast growth factor 4 (FGF4) is a member of the fibroblast growth factor (FGF) family that possess broad mitogenic and cell survival activities and play key roles in growth and survival of stem cells during embryogenesis, tissue regeneration, and carcinogenesis. FGF4 was identified by its strong oncogenic transforming activity and is a potent angiogenic factor, expressed in several highly vascularized tumors and also in adult mouse testis, intestine, and brain. Studies on the mouse homolog suggests a function in bone morphogenesis and limb development through the sonic hedgehog (SHH) signaling pathway. Furthermore, FGF4 regulates neural progenitor cell proliferation and neuronal differentiation. Recent studies show a growth-promoting role for FGF4 in human embryonic stem cells and a putative feedback inhibition mechanism by a novel FGF4 splice isoform that may serve to promote differentiation at a later stages of development.
Additional Names: FGF4, Fibroblast growth factor 4, Heparin secretory-transforming protein, HST-1, HST, Transforming protein KS3, HBGF-4, Kaposi sarcoma oncogene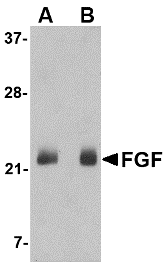 Description
Left:
Western blot analysis of FGF4 in NIH 3T3 cell lysate with FGF4 antibody at (A) 0.5 and (B) 1 µg/ml.


Below: Immunohistochemistry of CXCR4Lo in HeLa cells with CXCR4Lo antibody at 2 µg/ml.





Other Product Images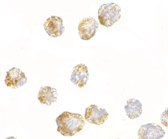 Source:

FGF4 antibody was raised against a 18 amino acid peptide near the carboxy terminus of the human FGF4.


Purification:

Affinity chromatography purified via peptide column
Clonality and Clone: This is a polyclonal antibody.


Host:

FGF4 antibody was raised in rabbit.
Please use anti-rabbit secondary antibodies.


Application

: FGF4 antibody can be used for detection of FGF4 by Western blot at 0.5 – 1 µg/ml.


Tested Application(s):

E, WB, ICC


Buffer:

Antibody is supplied in PBS containing 0.02% sodium azide.


Blocking Peptide:

Cat.No. 4433P - FGF4 Peptide


Long-Term Storage:

FGF4 antibody can be stored at 4ºC, stable for one year. As with all antibodies care should be taken to avoid repeated freeze thaw cycles. Antibodies should not be exposed to prolonged high temperatures.


Positive Control:




1. Cat.

No. 1282 - 3T3 (NIH) Cell Lysate
Species Reactivity: H, M


GI Number:

122750


Accession Number:

P08620


Short Description:

Fibroblast growth factor 4


References




1.

Powers CJ, McLeskey SW, and Wellstein A. Fibroblast growth factors, their receptors and signaling. Endocr. Relat. Cancer 2000; 7:165-97.


2.

Delli-Bovi P, Curatola AM, Kern FG, et al. An oncogene isolated by transfection of Kaposi's sarcoma DNA encodes a growth factor that is a member of the FGF family. Cell 1987; 50:729-37.


3.

Yoshida T, Ishimaru K, Sakamoto H, et al. Angiogenic activity of the recombinant hst-1 protein. Cancer Lett. 1994; 83:261-268.


4.

Laufer E, Nelson CE, Johnson RL, et al. Sonic hedgehog and Fgf-4 act through a signaling cascade and feedback loop to integrate growth and patterning of the developing limb bud. Cell 1994; 79:993-1003.