Catalog#
:4859
The Wnt signaling cascade is a conserved process in multicellular animals that plays important roles during development and can contribute to cancer and other diseases. Many members of this pathway are also expressed in the postnatal tissues such as brain. One such protein is Dact2, a member of the Dact protein family that was initially identified through binding to Disheveled (Dvl), a cytoplasmic protein essential to Wnt signaling. Dact2 is most prominent during the development of the thymus kidneys, and salivary gland. Dact2 is thought to play a role distinct from that of Dact1 with Dact2 having a greater impact on a b-catenin-independent process termed planar cell polarity/convergent-extension signaling. Furthermore, Dact2 but not Dact1 can inhibit Nodal signaling by promoting the endocytic degradation of TGF-b receptors. At least two isoforms of Dact2 are known to exist.
Additional Names: Dact2, Dapper homolog 2, Dapper antagonist of beta-catenin 2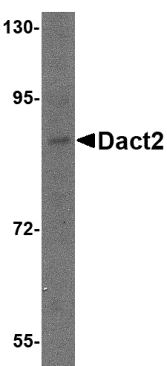 Description
Left:
Western blot analysis of Dact2 in SK-N-SH cell lysate with Dact2
antibody
at 1 µg/ml.
Below:
Immunohistochemistry of Dact2 in human brain tissue with Dact2
antibody
at 2.5 µg/ml.










Other Product Images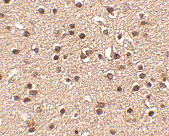 Source:
Dact2
antibody
was raised against a 12 amino acid
peptide
from near the amino terminus of human DACT2.
Purification:
Affinity chromatography purified via
peptide
column
Clonality and Clone: This is a polyclonal
antibody
.
Host:
Dact2 antibody was raised in rabbit.
Please use anti-rabbit secondary antibodies.
Application:
Dact2 antibody can be used for detection of Dact2 by Western blot at 1 – 2 µg/ml.
Tested Application(s):
E, WB, IHC
Buffer:
Antibody is supplied in PBS containing 0.02% sodium azide.
Blocking Peptide
:Cat.No. 4859P - Dact2
Peptide
Long-Term Storage:
Dact2
antibody
can be stored at 4ºC, stable for one year. As with all antibodies care should be taken to avoid repeated freeze thaw cycles. Antibodies should not be exposed to prolonged high temperatures.
Positive Control
:
1. Cat. No. 1220 - SK-N-SH Cell Lysate
Species Reactivity: H, M, R
GI Number:
163965434
Accession Number
: NP_999627
Short Description:
Dapper homolog 2
References
1.
Shimigori T, VanSant J, Paik E, et al. Members of the Wnt, Fz, and Frp gene families expressed in postnatal mouse cerebral cortex. J. Comp. Neurol. 2004; 473:496-510.
2.
Cheyette BNR, Waxman JS, Miller JR, et al. Dapper, a Dishevelled-associated antagonist of beta-catenin and JNK signaling, is required for notochord formation. Dev. Cell 2002; 2:449-61.
3.
Katoh M and Katoh M. Identification and characterization of human DAPPER1 and DAPPER2 genes in silico. Int. J. Oncol. 22:907-13.
4.
Waxman JS, Hocking AM, Stoick CL, et al. Zebrafish DAPPER1 and DAPPER2 play distinct roles in Wnt-mediated developmental processes. Development 2004; 131:5909-21.