Catalog#
:3967
The mammalian cbl family of ubiquitin ligases consists of three homologs known as cbl (also known as c-Cbl), Cbl-B, and Cbl-3 which share highly conserved a tyrosine-kinase-binding domain, linker and RING finger domain in their amino-terminal halves. Similar to other E3 ubiquitin ligases, Cbl catalyzes the transfer of ubiquitin from an E2 or Ubc (ubiquitin-conjugating) enzyme to the e-amino group of a lysine residue of the substrate protein. Cbl acts to negatively regulate many types of cell-surface receptors, including the Syk protein tyrosine kinase family. Cbl is thought to be involved in T- and B-cell signaling, in addition to thymus development. Of the three known homologs in the cbl family, cbl
antibody
reacts specifically with cbl. Multiple isoforms of cbl have been reported.
Additional Names: Cbl, Casitas B-lineage lymphoma proto-oncogene, Cas-BR-M murine ecotropic retro-viral transforming sequence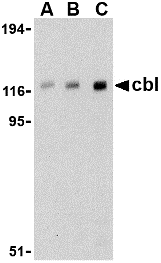 Description
Left:
Western blot analysis of cbl in Daudi cell lysate with cbl antibody at (A) 0.5, (B) 1, and (C) 2 µg/ml.


Below: Immunofluorescence of cbl in human lymph node tissue with cbl antibody at 20 µg/ml.




Other Product Images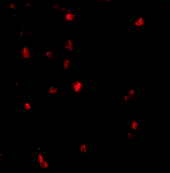 Source:

Cbl antibody was raised against a 14 amino acid peptide from near the carboxy terminus of human cbl.


Purification:

Affinity chromatography purified via peptide column


Clonality and Clone:

This is a polyclonal antibody.


Host:

Cbl antibody was raised in rabbit.
Please use anti-rabbit secondary antibodies.


Application:

Cbl antibody can be used for detection of cbl by Western blot at 0.5 – 1 µg/ml.


Tested Application(s):

E, WB, IF


Buffer:

Antibody is supplied in PBS containing 0.02% sodium azide.


Blocking Peptide:

Cat.No. 3967P - Cbl Peptide


Long-Term Storage:

Cbl antibody can be stored at 4ºC, stable for one year. As with all antibodies care should be taken to avoid repeated freeze thaw cycles. Antibodies should not be exposed to prolonged high temperatures.


Positive Control:




1. Cat. No.

1224 - Daudi Cell Lysate


2. Cat. No.

1369 - Human Lymph node Tissue Lysate


Species Reactivity:

H, M, R
GI Number: 115855


Accession Number:

P22681


Short Description:

a ubiquitin conjugating enzyme


References




1.

Thien CBF and Langdon WY. C-Cbl and Cbl-b ubiquitin ligases: substrate diversity and the negative regulation of signaling responses. Biochem. J. 2005; 391:153-66


2.

Weissman AM. Themes and variations on ubiquitylation. Nat. Rev. Mol. Cell Biol. 2001; 2:169-78.


3.

Swaminathan G and Tsygankov AY. The Cbl family of proteins: ring leaders in regulation of cell signaling. J. Cell. Physiol. 2006; 209:21-43.