Catalog#
:4887
Interleukin 17 (IL-17) is a family of pro-inflammatory cytokines produced by activated T cells and is thought to have a major role in the initiation and perpetuation of rheumatoid arthritis. IL-17 regulates the activities of NF-kB and mitogen-activated protein kinases such as ERK and JNK. In addition, IL-17 stimulates the expression of IL-6 and cyclooxygenase-2 and enhances the production of nitric oxide. IL-17-producing T helper cells (TH-17 cells) have been the subject of much attention due to the importance of IL-17 in the pathogenesis of autoimmune inflammation. Because of its role in autoimmune diseases, it is thought that targeting the production and action of IL-17 would be beneficial therapeutically in these diseases.
Additional Names:
IL-17 (IN), Interleukin-17, IL-17A, CTLA8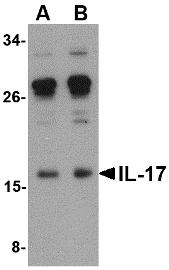 Description
Left:
Western blot analysis of IL-17 in A-20 lysate with IL-17
antibody
at (A) 0.5 and (B) 1 µg/ml.
Source:
IL-17
antibody
was raised against a 19 amino acid
peptide
from near the center of human IL-17A.
Purification:
Affinity chromatography purified via
peptide
column
Clonality and Clone:
This is a polyclonal
antibody
.
Host:
IL-17 antibody was raised in rabbit.
Please use anti-rabbit secondary antibodies.
Application:
IL-17
antibody
can be used for the detection of IL-17 by Western blot at 0.5 – 1 µg/ml.
Tested Application(s)
: E, WB
Buffer:
Antibody is supplied in PBS containing 0.02% sodium azide.
Blocking Peptide
:Cat.No. 4887P - IL-17
Peptide
Long-Term Storage:
IL-17 antibody can be stored at 4ºC, stable for one year. As with all antibodies care should be taken to avoid repeated freeze thaw cycles. Antibodies should not be exposed to prolonged high temperatures.
Positive Control:
1.Cat. No.
1288 - A20 Cell Lysate
Species Reactivity:
H, M
GI Number:
4504651
Accession Number:
NP_002181
Short Description:
(IN) Interleukin-17A
References
1.
Miossec P. Are T cells in rheumatoid synovium aggressors or bystanders? Curr. Opin. Rheumatol. 2000; 12:181-5.
2.
Paunovic V, Carroll HP, Vandenbroeck K, et al. Crossed signals: the role of interleukin (IL)-12, -17, -23, and -27 in autoimmunity. Rheumatol. 2008; 47:771-6.
3.
Steinman L. A brief history of TH17, the first major revision in the TH1/TH2 hypothesis of T cell-mediated tissue damage. Nat. Med. 2007; 13:139-145.