Catalog#
:3745
Interleukin-31 (IL-31) is a recently discovered T-cell cytokine closely related to IL-6 type cytokines and is preferentially produced by T helper type 2 cells (1,2). IL-31 activity is mediated through the ligand-induced oligomerization of a dimeric receptor complex containing IL-31 receptor A and oncostatin M receptor (2). In response to IL-31 binding, these proteins activate the JAK/STAT and the AKT signaling pathways (3). RNA levels of IL-31 receptor A and oncostatin M receptor are induced in activated monocytes but are expressed constitutively in epithelial cells . IL-31, when overexpressed in transgenic mice, results in the development of pruritis, alopecia, and skin lesions and in humans may result in atopic dermatitis, suggesting that IL-31 may represent a novel target for antipruritic drug development (1,4).
Additional Names: IL-31 (NT), Interleukin 31, IL31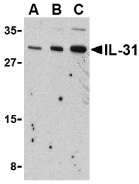 Description
Left:
Western blot analysis of IL-31 in RAW264.7 cell lysate with IL-31 antibody at (A) 2.5, (B) 5 and (C) 10 µg/ml.


Below: Immunohistochemistry of IL-31 in rat skeletal muscle tissue with IL-31 antibody at 10 µg/ml.

Other Product Images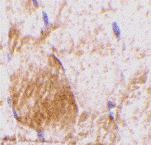 Source:

IL-31 antibody was raised against a 16 amino acid peptide from near the amino terminus of mouse IL-31.


Purification:

Affinity chromatography purified via peptide column


Clonality and Clone:

This is a polyclonal antibody.


Host:

IL-31 antibody was raised in rabbit.
Please use anti-rabbit secondary antibodies.


Immunogen:

Murine IL-31 (N-Terminus) Peptide (Cat. No. 3745P)


Application:

IL-31 antibody can be used for the detection of IL-31 by Western blot at 2.5 – 5 µg/ml.


Tested Application(s):

E, WB, IHC


Buffer:

Antibody is supplied in PBS containing 0.02% sodium azide.


Blocking Peptide:

Cat. No. 3745P - IL-31 Peptide


Long-Term Storage:

IL-31 antibody can be stored at 4ºC, stable for one year. As with all antibodies care should be taken to avoid repeated freeze thaw cycles. Antibodies should not be exposed to prolonged high temperatures.


Positive Control:




1. Cat. No.

1283 - RAW264.7 Cell Lysate


2. Cat. No.

1467 - Rat Skeletal Muscle Tissue Lysate


Species Reactivity:

M


GI Number:

46241139


Accession Number:

AAS82846


Short Description:

(NT) Interleukin 31


References



1. Dillon SR, Sprecher C, Hammond A, et al. Interleukin 31, a cytokine produced by activated T cells, induces dermatitis in mice. Nat. Immunol. 2004; 5:752-60.
2. Dreuw A, Radtke S, Pflanz S, et al. Characterization of the signaling capacities of the novel gp130-like cytokine receptor. J. Biol. Chem. 2004; 279:36112-20.
3. Diveu C, Lak-Hal AH, Froger J, et al. Predominant expression of the long isoform of GP130-like (GPL) receptor is required for interleukin-31 signaling. Eur. Cytokine Netw. 2004; 15:291-302.
4. Bilsborough J, Leung DY, Maurer M, et al. IL-31 is associated with cutaneous lymphocyte antigen-positive skin homing T cells in patients with atopic dermatitis. J. Allergy Clin. Immunol. 2006; 117:418-25.