Catalog#
:3755
The transcriptional repressor BMI-1 was first identified as a proto-oncogene frequently activated by Moloney murine leukemia proviral insertions in mice and cooperating with c-myc in the generation of mouse lymphomas . BMI-1 is involved in segment specification, cell growth and maintenance, transcriptional regulation, and chromatin modification. A major target of BMI-1 is the ink4a locus which encodes tumor suppressor proteins p16 and p19Arf, which are important in tumor progression and thought to be critical in cell proliferation and senescence (2). Recent studies have also shown that BMI-1 is required for the maintenance of adult normal and leukemic stem cells (3), suggesting that BMI-1 could an attractive therapeutic target for stem cell proliferation and renewal as well as for anti-cancer strategies.
Additional Names: BMI-1 (IN), Polycomb group RING finger protein 4, RNF51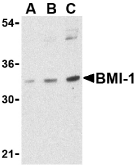 Description
Left:
Western blot analysis of BMI-1 in K562 cell lysate with BMI-1
antibody
at (A) 0.5, (B) 1 and (C) 2 µg/ml.
Below:
Immunocytochemistry of BMI-1 in K562 cells with BMI-1
antibody
at 10 µg/ml.
Other Product Images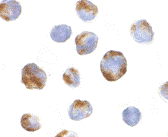 Source:
BMI-1
antibody
was raised against a
peptide
corresponding to 15 amino acids near the center of human BMI-1.
Purification:
Affinity chromatography purified via
peptide
column
Clonality and Clone:
This is a polyclonal
antibody
.
Host:
BMI-1 antibody was raised in rabbit.
Please use anti-rabbit secondary antibodies.
Immunogen:
Human BMI-1 (Intermediate Domain)
Peptide
(Cat. No. 3755P)
Application:
BMI-1
antibody
can be used for detection of BMI-1 by Western blot at 0.5 to 1 µg/ml.
Tested Application(s):
E, WB, ICC
Buffer:
Antibody is supplied in PBS containing 0.02% sodium azide.
Blocking Peptide:
Cat. No. 3755P - BMI-1
Peptide
Long-Term Storage:
BMI-1
antibody
can be stored at 4ºC, stable for one year. As with all antibodies care should be taken to avoid repeated freeze thaw cycles. Antibodies should not be exposed to prolonged high temperatures.
Positive Control:
1.
Cat. No. 1204 - K562 Cell Lysate
Species Reactivity:
H, M, R
GI Number:
22258801
Accession Number
: P35226
Short Description:
(IN) A transcriptional repressor involved in cell proliferation and sensecence
References
1.
Alkema MJ, Wiegant J, Raap AK, et al. Characterization and chromosomal localization of the human proto-oncogene BMI-1. Hum. Mol. Genet. 1993; 2:1597-603.
2.
Jacobs JJ, Kieboom K, Marino S, et al. The oncogene and polycomb-group gene bmi-1 regulates cell proliferation and senescence through the ink4a locus. Nature 1999; 397:164-8.
3.
Lessard J and Sauvageau G. BMI-1 determines the proliferative capacity of normal and leukaemic stem cells. Nature 2003; 255-60.