Catalog#
:1107
Signals from most growth factors and cytokines are transduced by receptor tyrosine kinases or non-receptor tyrosine kinases. Activated tyrosine kinases phosphorylate their substrates, which mediate the cellular response to extracellular stimuli. A long-sought major substrate termed p62dok (downstream of tyrosine kinase) for many tyrosine kinases including c-kit, v-abl, v-Fps, v-Src, v-Fms, and activated EGF, PDGF, IGF, VEGF and insulin receptors was identified recently from human and mouse by several laboratories. Upon phosphorylation, p62dok forms a complex with the ras GTPase-activating protein (RasGAP). p62dok represents a new family with very recently identified p56dok.
Additional Names: DOK1 (CT), DOK1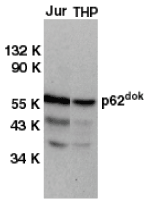 Description
Left:
Western blot analysis of DOK1 in Jurkat (Jur) and THP-1 (THP) cell lysates with DOK1 antibody at 1 µg/ml.


Below: Immunocytochemistry of DOK1 in K562 cells with DOK1 antibody at 2 µg/ml.

Other Product Images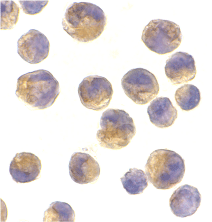 Source:

DOK1 antibody was raised against a peptide corresponding to amino acids near the carboxy terminus of human DOK1.


Purification:

Affinity chromatography purified via peptide column


Clonality and Clone:

This is a polyclonal antibody.


Host:

DOK1 antibody was raised in rabbit.
Please use anti-rabbit secondary antibodies.


Immunogen:

Human DOK Peptide (Cat. No. 1107P)


Application:

DOK1 antibody can be used for detection of DOK1 expression by Western blot at 0.5 - 1 µg/ml.A 62 kDa band should be detected.


Tested Application(s):

E, WB, ICC


Buffer:

Antibody is supplied in PBS containing 0.02% sodium azide.


Blocking Peptide:

Cat. No. 1107P - DOK1 Peptide


Long-Term Storage:

DOK1 antibody can be stored at 4ºC, stable for one year. As with all antibodies care should be taken to avoid repeated freeze thaw cycles. Antibodies should not be exposed to prolonged high temperatures.


Positive Control:




1.

Cat. No. 1205 - Jurkat Cell Lysate


2.

Cat. No. 1208 - THP-1 Cell Lysate


3.

Cat. No. 1204 - K562 Cell Lysate


Species Reactivity

: H


GI Number:

1848277


Accession Number:

AAC51127


Short Description: (

CT) Tyrosine kinase substrate DOK


References




1.

Carpino N, Wisniewski D, Strife A, Marshak D, Kobayashi R, Stillman B, Clarkson B p62(dok): a constitutively tyrosine-phosphorylated, GAP-associated protein in chronic myelogenous leukemia progenitor cells. Cell 1997;88:197-204.


2.

Yamanashi Y, Baltimore D Identification of the Abl- and rasGAP-associated 62 KDa protein as a docking protein, Dok. Cell 1997;88:205-211.


3.

Holland SJ, Gale NW, Gish GD, Roth RA, Songyang Z, Cantley LC, Henkemeyer M, Yancopoulos GD, Pawson T. Juxtamembrane tyrosine residues couple the Eph family receptor EphB2/Nuk to specific SH2 domain proteins in neuronal cells. EMBO J 1997;16:3877-3888.


4.

Di Cristofano A, Carpino N, Dunant N, Friedland G, Kobayashi R, Strife A, Wisniewski D, Clarkson B, Pandolfi PP, Resh MD. Molecular cloning and characterization of p56(dok-2) defines a new family of RasGAP-binding proteins. J Biol Chem 1998;273:4827-4830.