Catalog#
:3667
Bap29 and the related protein Bap31 are endoplasmic reticulum (ER) and ER-vesicle membrane proteins and members of the B-cell receptor-associated protein family (1,2). These two proteins are highly homologous and can form homo- and heterodimers. Both Bap29 and Bap31 interact with membrane-bound immunoglobulins (mIgs), such as IgM and IgD, which with Ig-alpha/Ig-beta heterodimers form B cell antigen receptors (3). Binding of the Bap29/Bap31 heterodimer correlates with the ER retention of non-Ig-alpha/Ig-beta bound mIg complexes, suggesting that Bap29 and Bap31 may act as chaperones transmembrane regions of various proteins (3). Bap29 possesses multiple isoforms.
Additional Names: BAP29 (IN), B cell receptor-associated protein 29, BCR associated protein 29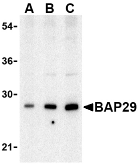 Description
Left:
Western blot analysis of Bap29 in human heart tissue lysate with Bap29
antibody
at (A) 0.5, (B) 1 and (C) 2µg/ml.
Below:
Immunohistochemistry of BAP29 in human heart tissue with BAP29
antibody
at 10 µg/ml.
Other Product Image
s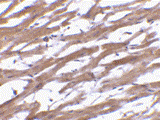 Source:
BAP29
antibody
was raised against a 17 amino acid
peptide
from near the center of human Bap29 Bap29 antibody is specific for isoform a of Bap29 .
Purification:
Affinity chromatography purified via
peptide
column
Clonality and Clone
: This is a polyclonal
antibody
.
Host:
BAP29 antibody was raised in rabbit.
Please use anti-rabbit secondary antibodies.
Immunogen:
Human BAP29 (Intermediate Domain)
Peptide
(Cat. No. 3667P)
Application:
Bap29
antibody
can be used for the detection of Bap29 by Western blot at 0.5 – 1 µg/ml.
Tested Application(s)
: E, WB, IHC
Buffer:
Antibody is supplied in PBS containing 0.02% sodium azide.
Blocking Peptide:
Cat. No. 3667P - BAP29
Peptide
Long-Term Storage:
BAP29
antibody
can be stored at 4ºC, stable for one year. As with all antibodies care should be taken to avoid repeated freeze thaw cycles. Antibodies should not be exposed to prolonged high temperatures.
Positive Control:
1. Cat.
No. 1301 - Human Heart Tissue Lysate
Species Reactivity:
H, M, R
GI Number:
56549093
Accession Number:
NP_001008405
Short Description:
(IN) A novel B-cell receptor-associated protein family member
References
1.
Kim KM, Adachi T, Nielsen PJ, et al. Two new proteins preferentially associated with membrane immunoglobulin D. EMBO J. 1994; 13:3793-800.
2.
Ng F, Nguyen M, Kwan T, et al. p28 BAP31, a Bcl-2/Bcl-XL- and procaspase-8-associated protein the endoplasmic reticulum. J. Cell Biol. 1997; 139:327-38.
3.
Schamel WW, Kuppig S, Becker B, et al. A high-molecular-weight complex of membrane proteins BAP29/BAP31 is involved in the retention of membrane-bound IgD in the endoplasmic reticulum. Proc. Natl. Acad. Sci. USA 2003; 100:9861-6.