Catalog#
:2501
Nuclear factor kappa B (NF-kappaB) is a ubiquitous transcription factor and an essential mediator of gene expression during activation of immune and inflammatory responses. NF-kappaB mediates the expression of a great variety of genes in response to extracellular stimuli. NF-kappaB associates with IkappaB proteins in the cell cytoplasm, which inhibit NF-kappaB activity. IkappaB is phosphorylated by IkappaB kinase (IKK) complex that contains IKKalpha, IKKbeta, and IKKgamma. A novel molecule that associates with and activates IKK was recently identified and designated CIKS (for connection to IKK and SAPK/JNK) and Act1 (for NF-kappaB activator 1) (1,2). CIKS directly interacts with IKKgamma. CIKS/Act1 also activates activating transcription factor (ATF) and activator protein 1 (AP-1) through Jun kinase (JNK). These results indicate that CIKS/Act1 is involved in the inflammation and stress responses. CIKS/Act1 is ubiquitously expressed in human tissues.
Additional Names: CIKS (NT), CIKS/Act1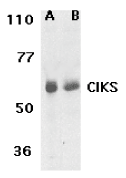 Description
Left:
Western blot analysis of CIKS expression in human lung (lane A) and placenta (lane B) tissue lysates with CIKS
antibody
at 1 µg /ml.
Below:
Immunohistochemistry of CIKS in human lung tissue with CIKS
antibody
at 5 µg/ml.
Other Product Images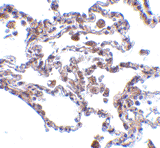 Source:
CIKS
antibody
was raised against a synthetic
peptide
corresponding to amino acids 2 to 15 of human CIKS .
Purification:
Affinity chromatography purified via
peptide
column
Clonality and Clone:
This is a polyclonal
antibody
.
Host:
CIKS antibody was raised in rabbit.
Please use anti-rabbit secondary antibodies.
Immunogen:
Human CIKS (N-Terminus)
Peptide
(Cat. No. 2501P)
Application:
CIKS
antibody
can be used for detection of CIKS by Western blot at 0.5 to 1 µg/ml.A band at approximately 63 kDa can be detected.
Tested Application(s):
E, WB, IHC
Buffer: Antibody is supplied in PBS containing 0.02% sodium azide.
Blocking Peptide:
Cat. No. 2501P - CIKS
Peptide
Long-Term Storage:
CIKS
antibody
can be stored at 4ºC, stable for one year. As with all antibodies care should be taken to avoid repeated freeze thaw cycles. Antibodies should not be exposed to prolonged high temperatures.
Positive Control:
1. Cat.
No. 1309 - Human Placenta Lysate
2. Cat
. No. 1302 - Human Lung Tissue Lysate
Species Reactivity:
H
GI Number:
10242289
Accession Number:
AF274303
Short Description:
(NT) A novel NF-kappaB activator
References
1.
Leonardi A, Chariot A, Claudio E, Cunningham K, Siebenlist U. CIKS, a connection to Ikappa B kinase and stress-activated protein kinase. Proc Natl Acad Sci USA . 2000;97(19):10494-9.
2.
Li X, Commane M, Nie H, Hua X, Chatterjee-Kishore M, Wald D, Haag M, Stark GR. Act1, an NF-kappa B activating protein. Proc Natl Acad Sci USA . 2000;97(19):10489-93.