ABIN3 Antibody
Catalog# :5303
The nuclear factor NF-kB plays key roles in development and immunity. ABIN3 (A20-binding inhibitor of NF-kB activation 3), also known as TNFAIP3-interacting protein 3 (TNIP3), is a novel negative feedback regulator of LPS-induced NF-kB activation. ABIN3 is a 39 kDa protein that negatively regulates NF-kB activation in response to TNF and LPS. ABIN3 is highly expressed in brain, thymus, lymph node, lung and fetal liver, with low expression in kidney, bone marrow. Through its interaction with A20, ABIN3 interferes with TRAF2-mediated transactivation signals and NF-kB inhibition is mediated by the ABIN-homology domain 2. ABIN3 has been found to be induced by Listeria infection and can be slightly downregulated by dexamethasone. Enhanced expression of ABIN3 in monocytes is associated with sepsis. Thus, ABIN3 is an IL-10-induced gene product capable of attenuating NF-kB in human macrophages yet is inoperative in mice and represents a basis for species-specific differences in IL-10 actions. At least four isoforms of ABIN3 are known to exist.
Additional Names : ABIN3,A20-binding inhibitor of NF-kappaB activation 3, TNFAIP3 interacting protein 3, TNIP3, Listeria-induced gene protein, LIND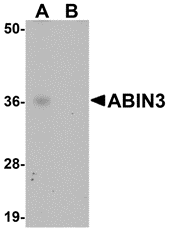 Description
Left:
Western blot analysis of ABIN3 in human spleen tissue lysate with ABIN3

antibody

at 1 µg/ml in (A) the absence and (B) the presence of blocking

peptide

.
Source :ABIN3 antibody was raised against a 17

amino acid peptide

near the carboxy terminus of human ABIN3.
Purification : Affinity chromatography purified via peptide column
Clonality and Clone : This is a polyclonal

antibody

.
Host : ABIN3 antibody was raised in rabbit.
Please use anti-rabbit secondary antibodies.
Application : ABIN3 antibody can be used for detection of ABIN3 by Western blot at 1 - 2 µg/ml.
Tested Application(s) : E, WB
Buffer : Antibody is supplied in PBS containing 0.02% sodium azide.
Blocking Peptide :Cat.No. 5303P - ABIN3 Peptide
Long-Term Storage : ABIN3

antibody

can be stored at 4ºC, stable for one year. As with all antibodies care should be taken to avoid repeated freeze thaw cycles. Antibodies should not be exposed to prolonged high temperatures.
Positive Control :
1. Cat. No. 1306 - Human Spleen Tissue Lysate
Species Reactivity : H, M
GI Number : 192807305
Accession Number : NP_079149
Short Description : A20-binding inhibitor of NF-kappaB activation 3
References
1. Verstrepen L, Carpentier I, Verhelst K, et al. Abins: A20 binding inhibitors of NFκB and apoptosis signaling. Biochem. Pharmacol. 2009; 78:105-14.
2. Bouwmeester T, Bauch A, Ruffner H, et al. A physical and functional map of the human TNFα/NFκB signal transduction pathway. Nat. Cell Biol. 2004; 6:97-105.
3. Wullaert A, Verstrepen L, Van Huffel S, et al. LIND/Abin-3 is a novel lipopolysaccharide-inducible inhibitor of NFκB activation. J. Biol. Chem. 2007; 282:81-90.
4. Weaver BK, Bohn E, Judd BA, et al. Abin-3: a molecular basis for species divergence in interleukin-10-induced anti-inflammatory actions. Mol. Cell. Biol. 2007; 27:4603-16.